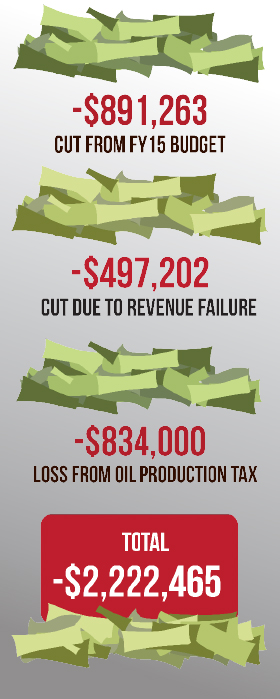 A second failure in expected state revenues will cut higher education by an additional seven percent­— totaling higher ed cuts to 13.5 percent, said President Jerry Steward.
The third cut of the fiscal year would come on top of the nearly $1.4 million reduction from last year's state funding to OCCC.
Chief Financial Officer John Boyd said the college has not calculated how much the cut would equal as of press time but college president Jerry Steward offered some estimation.
"I'm not too good at math in my head, but I'm good enough to know that that's over a million dollars," Steward said at a TLC meeting Thursday afternoon.
The cut comes in the form of a state revenue failure- where the state legislature did not make as much money as it projected, and budgeted, for.
Steward said there is even more bad budget news unrelated to state appropriated funds. He was notified in February that the college will be cut $834,000 in funds that come from taxes on oil production.
"Now, that's in addition to the 3.5 percent reduction to start the year, it's in addition to the 3 percent reduction effective January 1, and its in addition to any reduction that may be announced by March 1st or sometime in March—those are general revenue failures," Steward said.
And the college could face a second oil production tax cut.
"Because of the receipts from oil revenue I was told by a state regent official…that there is going to be another oil revenue failure announced probably in April."
"We don't know the amount of the second general revenue shortfall, and we don't know the amount of the second
oil revenue shortfall yet, but we know they're both going to have a dramatic impact on our budget," Steward said.
Steward said the college will continue scrutinizing its expenditures.
"We're going to tighten our belt, we have been tightening our belts," Steward said.
Steward and his cabinet have avoided layoffs by identifying other areas in the budget where cuts can be made.
"What I'm trying to do is to avoid having any reduction in force—people losing their jobs this year—it's difficult, but it's doable."
Steward said he cannot promise personnel cuts won't happen.
"I simply can't guarantee it. But I believe that we're going to be able to avoid them."
He said the college remains committed to its purpose.
"We are still going to be Oklahoma City Community College. We're still going to meet the needs of our students. We're still going to meet the needs of our community. But it is more difficult, there is no question about it."
The outlook for the budget suggests that things could be even worse next year. On Feb 16, the State Board of Equalization, led by Governor Mary Fallin certified that the state will have $1.1 billion less to appropriate for the fiscal year starting on July 1.