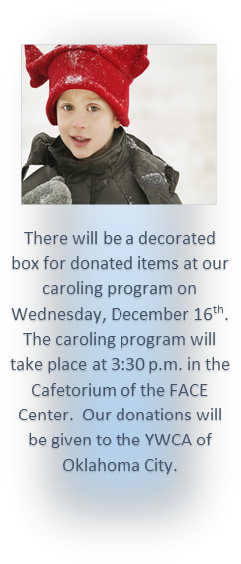 From now until Tuesday, Dec. 22, the Human Resources department and Family and Community Education (FACE) Center are accepting winter wear donations during a Warmth for Winter donation drive.
Women and children's hats, gloves, mittens, scarves and socks are all welcome contributions that will be donated to the YWCA, said Child and Development Lab School Superviser LeeAnn Townsend.
"We've done this for nearly the last 10 years," she said. "It's a community outreach. The YWCA is a safe home for women who have gone through abuse or need a safe place to stay with their children."
Townsend also said the locations are collecting items for Project Sweet Dreams, which will provide bedtime things to families at the YWCA.
Donation items can include new or gently used pajamas (size infant to eight years), new or gently used stuffed animals and books, and new washcloths and bars of soap.
For more information, contact Townsend at ltownsend@occc.edu or call 405-682-1611, ext. 7423.