Wacky weather totally worthwhile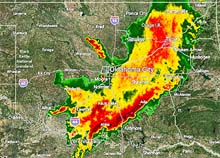 If you've lived in Oklahoma for more than a week, it's not difficult to grasp the craziness of the weather here.
People from many other places claim the weather where they are from is the most unpredictable in the entire world. Frankly, experience makes me disagree.
I have fond memories of these times. At a camp in the summer of 2008, I remember it being sunny all day, then suddenly becoming cloudy and raining torrentially for about 45 minutes, and then becoming clear and sunny again. In fact, people at that camp from other states were bewildered by what had happened. I was not.
Then again this year, highs were in the 70s in January, then snow dominated February and early March, with mid to late March ravaged by storms and tornadoes. On the other side, there are things about Oklahoma's weather that are predictable. Such as the fact that if you live in Moore long enough, a tornado will probably destroy your home at some point. Sorry Moore, but it's true.
Having lived in Oklahoma for my entire life, I feel like I should understand it could be over 100 degrees for 100 straight days during the summer and be able to reach below zero the following winter —  and that there also will be a tornado during that same winter. Realistically, that is just normal, but it still befuddles me from time to time.
The weather here can destroy entire areas, ruin your daily commute to work for a week with ice, or directly set you on fire. But at least it is more entertaining than knowing what the weather is going to be like every day of the year.
I would rather live in a place like Oklahoma, where on any given day I don't know if I am going to have to put my nearly hail-totaled new car in the shop for six months or not, than in a place where it's always hot or cold. There's slight sarcasm in that statement because the car thing is a true story. However, I do enjoy the excitement.
Rating: B-
To contact Clayton Mitchell, email sportswriter@occc.edu