Stitt And Cornett In GOP Runoff; Edmondson Wins Demo Primary
Large numbers of Oklahoma voters cast ballots Tuesday in the 2018 primary election. With 1,905 precincts reporting, Oklahoma City Mayor Mick Cornett has 28.98 percent of the vote, followed by Todd Lamb with 24.03 percent and Kevin Stitt with 24.51 percent.
At Republican candidate Mick Cornett's watch party, people are talking and watching the screen to check the results. The furthest projector, above the stage that candidate Cornett is to speak on, upon victory or defeat, is showing a montage of the former mayor's exploits.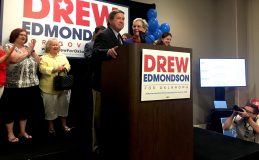 Edmondson supporters Paul and Pat McTighe said they have supported the Democrat since the 80s, when he was district attorney of Muskogee. Pat has been a Democrat for 48 years, Paul for 33 years. Pat McTighe said her key issues were SQ 788 and the Democratic platform. "What we've had isn't working. We need somebody who will help private citizens, and not special interest groups," she said.
As of 9:35 PM, Edmondson had 21,444 votes to Johnson's 13,592.
After the win, officials with the Democratic Governor's Association praised Edmondson.
"Congratulations to Drew Edmondson for earning the Democratic nomination in Oklahoma," said Washington state Governor Inslee. "A Muskogee native, Navy veteran and Oklahoma's Attorney General for 16 years, Drew has spent his entire life fighting for the people of Oklahoma. Drew is now the only candidate in this race who will actually give schools, teachers, and students the support they deserve. As governor, Drew will work to expand access to affordable health care and bring transparency back to state government. Oklahomans desperately want to move on from the last disastrous eight years under Mary Fallin, and Drew Edmondson is the right man for the job."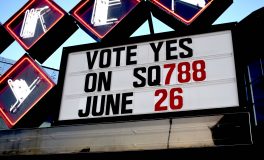 Oklahoma voters continue to support State Question 788. With 1,629 precincts reporting, supporters of the measure cast 381,342 votes- 56.3 percent. Opponents' votes total 296,053- 43.7 percent.
Governor Mary Fallin responded to election returns which showed the passage of SQ 788.
"I respect the will of the voters in any question placed before them to determine the direction of our state. It is our responsibility as state leaders to look out for the health and safety of Oklahoma citizens. As I mentioned in previous public comments, I believe, as well as many Oklahomans, this new law is written so loosely that it opens the door for basically recreational marijuana. I will be discussing with legislative leaders and state agencies our options going forward on how best to proceed with adding a medical and proper regulatory framework to make sure marijuana use is truly for valid medical illnesses."
Austin Broms, who was attending a watch party for SQ 788 at the 51 Street Speakeasy, said he hoped the proposal would bring in money for education.
Melissa Yohn, a cancer survivor, had other reasons for supporting the state question. Yohn said she used marijuana throughout her cancer treatment process. She said she did chemotherapy but marijuana was the only thing that brought her appetite back. Marijuana also helped her pain much more than prescribed drugs.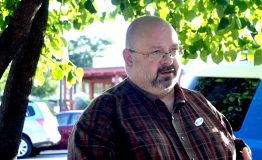 In northwest Oklahoma City, Jim Craig said he supported Democrat Connie Johnson for governor. "I really appreciated how she is openly supportive of everybody. She is very transparent about all the issues," Craig said.