View from the President's Office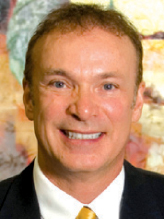 College degree great investment
Over spring break I had the opportunity to visit the newly renovated Myriad Gardens in downtown Oklahoma City. It was great to see this revitalized public space — lots of children playing on the grounds, people reading and relaxing on the tree-shaded lawns, and even a dog park. After three years of a tough economy with lingering challenges, the new gardens and park provided another sign of hope for Oklahoma.
Throughout our state and especially here in Oklahoma City, there are other signals of an improving economy and quality of life — for example, the new jobs being created by the energy and aerospace industries in our area forecast a positive future. It is important to note, however, that many of these new jobs require education beyond a high school diploma. If we are to sustain this growth and economic improvement, we simply must have the educated workforce, or the forward momentum will stall.
As a student, your choice to go to college is to be commended. Your efforts and persistence to stay in college and be successful are what will make all the difference. Oklahoma City needs you to finish your degree or certificate not only to ensure a better future for you as an individual but to continue to make Oklahoma City a place where employers can find talented and educated workers.
The hope for our community to meet the growing requirements of an educated workforce is the same hope you have for yourself and that I have for you and our community. Simply put, the most reliable pathway to a better life, a better job, and a better community — is education. As a college president, I certainly advocate for a pathway that includes higher education, but I also believe in many other options to further one's education, including vocational/professional training.
It was reassuring to see the Myriad Gardens come to life this spring. Let's all use this as inspiration and encouragement to put in the work to finish this semester strong — and go the distance to complete college.
—Paul Sechrist
OCCC President