View from the President's Office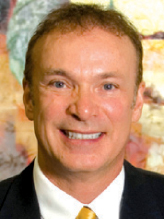 I would like to add my voice to the many others in support of higher education.
Recent editorials in The Oklahoman, by Carl Edwards, President of the Greater Oklahoma City Chamber of Commerce, Dave Lopez, Secretary of Commerce, and Phyllis Hudecki, Secretary of Education, have all emphasized the need to increase the number of Oklahomans who hold college degrees and certifications to meet the number of new jobs being created in our state.
Secretaries Lopez and Hudecki quote a new study by the Center on Education and the Workforce which concluded that "most of the new jobs being created, or to be created in the future, require a college education."
As a student attending a community college, you will be particularly interested that this study also stated, "Almost all of the fastest-growing job categories require at least a one-year certificate or an associate degree."
Many of these types of certifications and degree programs are offered here at OCCC. The benefits of higher education to you individually, to our community, and to our state are dramatic.
As a college graduate, you are likely to earn more, have a job that includes retirement and health insurance benefits, and more likely to keep your job if layoffs occur.
Our community and state benefit as well—college graduates pay more in taxes and are less likely to need public assistance from local and state government.
The college will be hosting a number of job fairs this year. Even if you are not looking for a job right away, I urge you to attend.
Meeting with employers early in your college experience may give a better sense of the skills and knowledge you will need to secure a job in the future.
I would also encourage you to meet with an academic or faculty advisor to match your college goals with career options.
While I continue to believe reaching your full potential intellectually is reason enough to continue your education, I also know that for almost all of you getting a good job is the motivation—it certainly was for me when I was a college student.
The only difference now is that there are fewer job opportunities if you don't finish—and a lot more if you do.