Vice President's honor roll recipients named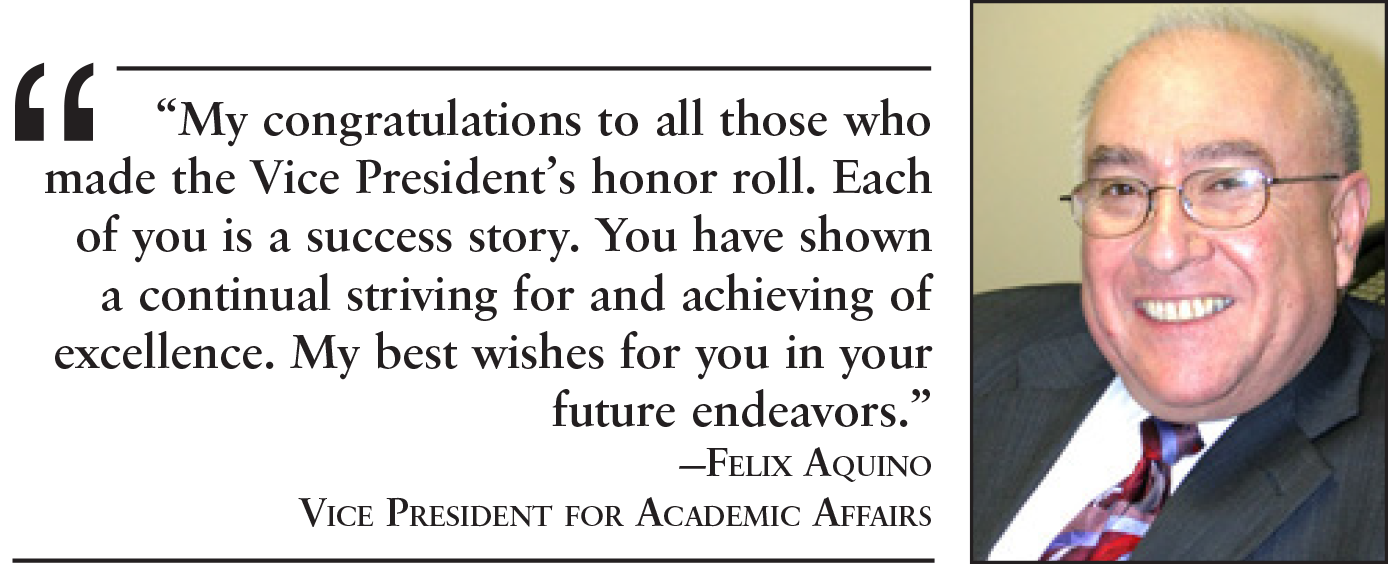 Students are eligible to be on the Vice President's Honor Roll by achieving a GPA of 3.5 while carrying at least 12 hours. Part-time students are eligible if they have maintained a 3.5 GPA for two consecutive semesters.
Skye Abbott, Atul Abraham-Muttenchery, Emily Adams, Richard Adams, McKenzie Adams, Joseph Addo, Saphronialynn Adkins, Yazan Al Amaireh, Alia Alsaif, Cheney Alvarado, Martha Amos, Melaney Anderson, Eric Anderson, Elizabeth Anderson, Kaci Anderson, Hasna Armihy, Sandy Arnold, Nkegoah Asaba Nguafor, Erica Astrino, Vincent Astrino, Taylor Atherton, Jenny Atteberry, Susan Atwell, Michael Avila, Karim Aznag, Danielle Baker, Mardon Bakhramov, Nicole Ballinger, Ashley Barber, Marcee Barker, Sydni Barker, Andy Barnard, Latisha Batiste.
Bashar Bawatnah, Katie Bebout, Jeana Bebout, Bethany Belcher, Ashley Berglan, Luis Berrios, Elisabeth Berry, Dustin Bingham, Hayley Bishop, Charley Bishop, Hannah Blackford, Michael Blair, Adam Blasing, Jennifer Bledsoe, Mycalyn Blomstrom, Kaila Boerner, Tyanne Bogle, Nathan Boone, Lisa Boyd, Rachel Boyd, Garrett Boyles, Amy Brackeen, Elizabeth Bragan, Ronda Brannum, Kailie Branson, Taylor Bray, Austin Brewer Allixandra Brickey.
Michaela Bridge, Crystal Brightwell, John Briski, Bailee Bronson, Jared Bross, Emily Brown, Nathan Brown, Brenden Brown, Guy Brown, Tiara Broyles-Stephens, Mark Brummitt, Darron Bruner, Amanda Bryant, Dawn Buckingham, Celia Buckley, Stormy Burnett, Amanda Burns, Cameron Butler, Kelly Butner, Christa Caho, Hayley Campbell, Jessica Carlon, Luke Carroll, Raina Castle, Matthew Cater, Solana Ceville, Kwai Sum Trevor Chan, Chao-Yang Chang, Garrett Chapin, Samuel Charlton, Thanh-Tung Chau, Mayra Chavarria, Trynisha Cheadle, Hiba Cheema.
Caressa Choat, Melanie Christian, Jingeun Chun, Candy Cifuentes, Candace Clay, Virginia Clemons, Tanner Clift, Jessica Clodfelter, Brandi Cloninger, Amanda Clutter, Brandan Cobb, Justin Cochrane, Madison Coil, Iesha Colbert, Morgan Coleman, Brittany Combs, Kelly Combs, Zachary Conant, Caitlin Connell, Jason Conner, Hunter Conover, Candy Corbin, Santos Corona Archangel, Alexandra Counts, Brittany Craig, Santana Craig, Melissa Crain, Brittany Cramton, Bailey Crawford, Shelby Crim, Kailey Crossley, Cody Crowe, Nicole Cunningham, Eddie Cutliff, Anh Dang, Xuan Phi Dang.
Lauren Daniel, Nicole Daoust, Daniel Davis, Evan Davis, Brittany Davison-Lushbough, Mark DeMay, Joni Dean, Emilie Defatta, Stephen Dellinger, Julie Denton, Sara Denton, Jeryd Derilo, Ashlyn Detamore, Jessica Dihn, Brady Dillingham, Phuong Dinh, Bracinya Dixon, Christopher Dixon, Candice Dolan, Jorge Dominguez-Manjarrez, Lucian Donley, Megan Dressler, Morgan Dressler, Madison Dreyfuss, Branden Dufour, Stacy Dunn, Jennafer Duvall, David Dyke, Mary Earp,Emma Easiley, Reagan Elkins, Shamequa Ellison, Sarah Ellison, Erin Elsenbeck, Michael Emerson, Stephanie Emperly, Katherine Engel, Riley Ervin, Azucena Esparza, Cynthia Esparza, Jonathan Espinoza Christa Evans, Kayla Everson.
Amanda Farmer Cavola, Elizabeth Farrar, Holly Fatkin, Taylor Faulkenberry, Awah Ferdinand, Tiana Ferguson, Jarrett Ferguson, Chase Ferrell, Russell Fields, Michael File, Mardesia Finch, Randell Fixico, Kristen Fleming, Joseph Fleshman, Juan Flores, Tiffany Foos, Jessica Forbes, Tanner Foster, Shane Fowler, Mollie Frantz, Dakota Freeman, Amanda Gain, Nicthed Garay, Luisa Garcia, Cory Garrard, Brittani Gatewood, Nicholas Gatmen, Joshua Gentry, Dakota George, Vincent Giambaresi, Danelle Gibson, Timothy Girkin, Raymond Giroux, Joseph Glidewell.
Kristen Godinez, Jaime Goicochea, Jorge Gomez, Anthony Gonzales, Gabriela Gonzalez, Blanca Gonzalez, Jhonnatan Gonzalez, Alecxis Gonzalez, Haley Gottshall, David Graham, Megan Graver, Kendra Green, Douglas Greer, Jacob Grothe, Jonathan Gruszka, Anilisha Gurung, Brandon Hackney, Ramona Hair, Mariah Hale, Daniel Hale, Paula Hale, Cristal Haley, Tanner Hall, Stanley Hall, Dominique Hall, Astoria Hallford, Leon Hamby, Rachel Hamidi, Chadwick Hamilton, Ebony Hamilton, Mickala Hamilton, Nathan Hamlet, Rosana Hance, Angela Handcock, Ramon Harper-Alonso, Kaila Harris.
Sirrah Harris, Kristen Harris, Diana Harrison, Debbie Hartsell, Charles Haufe, Natasha Haughton, Bailey Hayes, Michael Hayes, Parker Heard, Taylor Heckart, Wendi Hedrick, Morgan Heitt, Verna Helton, Julio Hernandez, Sarah Hernandez, Raymond Herre, Rachel Herrera, Kristi Herrera, Jake Hewett, Deanna Hibler, Jessie Hicks, Brenton Higgins, Kaitlin Hightower, Elsa Higuchi, Jamie Hileman, Keith Hill, Leanna Hinckley, Melissa Hobbs, Jerika Hobza, Erik Hoepfner, Charlotte Holder, Alex Holder, Sarah Holloway, Jaden Holt, Ashley Hosek, Larry Hosek, David Howe, Catherine Howell, Taylor Hudson, Jennifer Huff, Tyler Hughbanks, Joseph Hughes.
Reyna Hulsey, Samantha Hurst, Monica Hutchison, Samuel Hwang, Robert Ibarra, Amber Idlett, Michaelene Irvin, Alicia Isbell, Jacob Islas, Sherry Isom, Nathanael Izu, Mark Jackman, Emily Jackson, Salyna Jackson, Quatama Jackson, Khurshid Jahan, Stephanie James, Howard Jamison, Sheetal Jayswal, Jonathon Jester, Jayne Jewell, Jayme Jimboy, Robyn Johanning, Matthew Johnson, Charles Johnson, Padinjarattathu Johnson, Bayleigh Johnson.
Robert Johnson, Shemeka Johnson, Jessica Johnson, Arin Johnson, Libby Johnson, Ryan Johnston, Rachel Joiner, Jessica Jones, Ryann Jones, Kayla Jones, Brennah Jones, Ameya Joshi, Jennifer Karner, Soriyana Kchao, Kelly Keel, Cody Keener, Emily Keith, Joseph Keller, Lakeisha Kemp, Antoinette Kendrick, Shaina Kennedy, Aubree Kennedy, Erik Kenrick, Phung Khong, Brian Kiarie, Jeffrey Kime, Alexandra King, Danetra King, Erica King, Kyle Kirk, Zachery Kley, James Knoll, McKenna Koehl, Veena Kolli, Frederick Kordsiemon, Kaylin Kovelda, Erin Kowal, Lynae Krausnick, Cheryll Kropelin, Jonathan Kummell, Brandon Kuon.
Andrews Kwei, Nikole Lafollette, Courtney Lairson, Asma Lama Tamang, Anthony Landers, Allison Landry, Meyett Lavalais, Kylie Le, Tran Le, Tin Le, John Le, Lien Le, Khoi Le, Phillip Le, Christian LeFlore, Teionna Leach, Olivia Leachman, Teresa League, Luis Leal, Cody Lee, Isaac Lewis, Jocelyn Lewis, Yang Li, Sonia Ligon, Molly Liles, Hongyi Lin, Katie Liotine, Daniel Litton, Yang Liu, Weijun Liu, Jennyfer Livingston, Jordan Logsdon, Traci Long, Sara Long, Angelica Lopez, Erick Lopez, Shannon Love, Jennifer Loyd, Brenda Lozano, Christopher Luckens, Xin Luo, Amanda MacIas.
Connor MacPhee, Noemy Magana, John Magelssen,Vivian Malagon, Trey Mangham, Linda Marsh, Daniel Martinez, Vanessa Martinez, Elise Martinez, Jaciel Martinez, Brandon Mason, Lauren Mason, Keni Matsayko, Kathy McCall, Dustin McCall, Gage McCartney, John McCloy, Kylie McConville, Aaron McCracken, Ryan McCracken, Rendy McCulley, Diane McElyea, Patrick McEntire, William McGee, Kris McKay, Sarah McKenzie, Jeremy McKinley, Rex McLauchlin, Sydney McNabb, Jonah McPhaul, Monique Meadows, Natalie Melancon, Jeremiah Melton, Angela Merka, Kelly Merka, Joseph Merrill, Andrew Merriman, Angelica Messner, John Michuki, Kenneth Millemon, Misty Miller, Vernon Miller, Samantha Miller, Jonathan Miller, Ronald Miller.
Christina Mitchell, Paul Mitchell, Christopher Mitchell, Theodore Mofle, Brian Monevilay, Jonathan Moore, Sarah Moore, Jaren Moorman, Maria Moreno, Casie Morris, Rachel Morrow, Joseph Morton, Jennifer Mosteller, Valerie Mueggenborg, Chance Mueller, Kristina Murry, Emily Myers, Leila Ndomche Kondo, Orlando Neal, Scarlet Nelson-Gardner, Phuc Ngo, Bruce Dai Nguyen, Thanh Nguyen, Mai Nguyen, Hy Nguyen, Phuc Nguyen, Anhtan Nguyen, Tony Nguyen, Cam Nguyen, Tam Nguyen, Hiep Nguyen, Tien Nguyen, Meagen Nichols, Joshua Nies, Jacqueline Nighbor, Sarah Noll, Zachary Nolop, James Nottingham, Faith Nowak, Sylvia Ntube, Patrick O'Leary.
Robert Oens, Min Ha Oh, Alexander Okeke, Ifeyinka Oladipo, Emily Oliphant, Myranda Oliva, Kaylee Ondiak, Joel Ornelas, Ariela Orrostieta, Steven Ouandji, Nathan Owen, Lindsey Owens, Ashley Owens, Ernestina Owusu Asare, Sara Ozgunesliler, Bailey Pack, Emily Page, Matthew Palumbo, Jing Pan, Iris Park, Dalton Parker, Alan Parker, Benaysia Parker, Sachin Patel, Ami Patel, Neel Patel, Prashantkumar Patel, Roshniben Patel, Aminata Paye, Liberty Payne, Samuel Pearson, Luz Perez, Teryn Perez, Justin Perry, Kaylun Peters, Magdalene Petroff, Erin Pforter, Tung Pham, Tuan Pham, Dustin Pham, Duy Pham, Tai Phan, Amy Phelps, Tyler Phillips, Rachel Picott, Mariana Piedra, Paul Pierce, Micah Pilkenton.
Ashlyn Pine, Brooke Potter, Shelly Prather, Josiah Presley, Kasilyn Price, Stephen Proctor, Haylee Radtke, Cheryl Raesz, Joseph Rainwater, Timothy Ramirez, Graciela Ramos, Elise Rath, Kimberly Ray, Patrick Reames, Macey Reed, Matthew Reeves, Alishia Reno, McCauley Rhoads, Bradyn Rhodes, Phillip Rhoton, Debra Richardson, Rebecca Riddle, Natasha Riggs, Ginny Riise, Tiffany Riley, Katie Riojas, Jordan Risner, Kerren Ritchey, Mariah Rivera, Trevor Roach, Reid Roberts, Holly Robinett, Jazmine Robinson, Alfred Robinson, Tate Robison, David Rochat, Lauren Rodebush.
Amanda Rodriguez, Abby Roper, Sarah Ross, David Ross, Julie Ross, Katie Rountree, Bobbie Rudkin, Jessica Ruiz, Alexa Rushing, Josh Sadler, Jose Saenz, Christopher Saenz, Maria Salas, Luqman Salaudeen, Holly Salem, Corina Sanchez, Adriana Sanchez, Taelor Sanders, Alecia Sanville, Corey Sayre, Jared Scales, Jessica Schachle, Cameo Schemenauer, Jonah Schoenborn, Charles Schwab, David Scroggins, Rosana Seals, Samantha Searle, Marta Seitz, Deborah Senn, Eunsook Seo, Ricardo Serna, Brittany Sexton, Brooke Shackleford, Kyla Sharry, Colton Shaub, Sara Shaw.
Richard Shaw, Cody Sheldon, Jarrett Shelton, Hannah Shelton, Mark Shemwell, Melanie Shepherd, Joseph Shimanek, Richard Sholar, Frank Shover, Jordan Shugart, Ryan Siegfried, Kimberly Sivils, Heather Sizemore, Joshua Smelser, Samantha Smeltzer, Kelli Smid, Erin Smith, Brittany Smith, Spencer Smith, Nathan Smith, Kiel Smith, Pamula Smith, Desiree Smith, Stephan Smith, Darrell Smith, Kody Smith, Madison Smith, Matthew Smith, Stella Smith, Aaron Smoot, Amine Sniter, Daniela Solis, Tracey Sonka, Karina Sosa.
Judith Soto, Nora Sparks, Jordan Spasic, Jesse Spradlin, Ashlee Standridge, Taylor Stanfield, Summer Stephens, Jessica Stevens, Eric Stevens, Alyssa Stewart, Kenna Stimson, Jamie Stout, Paul Swihart, Alexandria Swink, Charice Swope, Joseph Taffe, Savannah Talley, Shahrzad Tavasoli, Josh Taylor, Kayla Taylor, Yolanda Taylor, Emilee Thagard, Lukee Thein.
Melissa Thomas, Vallie Thomas, Blessy Thomas, Cayla Thomas, Tera Thomas, Lance Thomas, Corey Thompson, Misty Thompson, Caleb Thompson, Gordon Tiffany, Graciana Tiku, Samantha Tindle, Jose Toledo, Vinh Tong, Dulce Torres, Jaclyn Towe, Quynh Tran, Peter Treagesser, Whitney Tresler, Gary Tripp, Sarah Trosper, Kobey Trower, Quynh Truong, Van Truong, Victor Truong, Jared Turley.
Kaley Tyson, Regi Uthup, Brenda Valencia, Lori Valentine, Nichole Vanderhoof, Rachel Vandevoir, Pajkub Vang, Nadya Vasquez, Abigail Verschage, Caleb Vesely, Chandler Vessels, Leonardo Villaseca-Cruz, Blake Wallen, Ann Waltrip, Yan Wang, Alexis Ward, Shelby Warlick, Rex Warr, Joseph Watson, Quinton Webb, Tracy Webb, Jacob Welch, Gerald Welch, Barton Wells, Meirong Weng, Melissa Whelchel, James White, Addison White, Leland White, Shelby White, Jamie Whitson.
Ladonna Wieland, Daniel Wilkerson, Joshua Willens, Samantha Williams, Darby Williams, Lanesia Williams, Tiffany Williams-Elledge, Dylan Williamson, Kelton Williamson, Lacey Williamson, Justin Williford, Jacob Wilmoth, Allyson Wilson, Ashlei Wilson, Cory Wingfield, Jacob Winter, John Winter, Shaques Wise, Krista Witcher, Lesley Wood, Bryan Woodard, Brittan Woods, Brian Woodward, Joshua Wooten, Chara Word, Vanessa Wright, Maria Wright, Joshua Wright, Richard Wright, Micah Wronowski, Christopher Yett, Hannah Youngblood, Luis Zavala, Gabriel Zeledon, Qianshen Zhou.