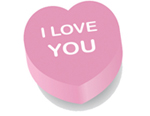 With Valentine's Day getting close, many people are planning a way to commemorate the holiday without breaking the bank.
Valentine's Day dates and gifts don't need to be fancy. In fact, simplicity may be better than extravagance some students said.
Cody Delano, a music theory major, said his perfect gift was simple and delicious.
"For me personally, I'd love Pop-Tarts," Delano said.
Some students think an outdoor date can be enjoyable.
Student Angel Icenhour suggests taking a walk around Bricktown.
Great meals for under $15
Café 7 Delicatessen and Pastaria
14101 N. May Ave 405-748-3354 Offers pizza, pasta, sandwiches, and salad. Main dishes are under $10
Saturn Grill
6432 Avondale Dr. 405-843-7114 Offers pizza, pasta, sandwiches, and salad. Dishes range from $7 to $9
Abel's Mexican Restaurant
5822 NW 50th St. 405-491-0911 Offers Mexican cuisine. Most entrées under $10.
Pho Lien Hoa
901 NW 23rd St. 405-521-8087 Offers Vietnamese and South Asian cuisine. Most entrées under $10.
Picasso Café
3009 Paseo 405-602-2002 Offers soups, salads, pizzas, and meat dishes. Dishes range from $8 to $12.
Abi Nurick, finance major, said she enjoys walking around the park and having a picnic.
Zach Summer, business major, said he will be taking his girlfriend on a romantic camping trip.
"We're going to camp out all night, watch the stars, and then watch the sunrise," Summer said.
For sports fans, there are a couple options for spending the day.
"I'm going to the OU-Texas basketball game," said Kenneth Meador, a political science major.
Meador said he would be taking his wife and son to the game with him. Tickets for the OU-Texas game start at $18 a seat.
Gift cards can also be a good gift option. Student Cindy Delano suggested an iTune's gift card, because of the versatility gift cards offer.
"Everyone likes free music," Delano said.
Delano also said creating a digital scrapbook can be a fun way to share memories with family members.
Some students prefer traditional gifts over non-conventional ones.
"I like flowers and chocolates," student Deanna Davis said.
To contact Mary McAtee, email staffwriter2@occc.edu.