V-neck sweater like wearing nothing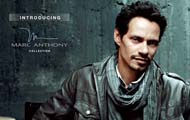 After Marc Anthony helped to remake the Roman republic around the death of Julius Caesar, he took a break for a few thousand years and stayed off the radar.
In the 1950s, Anthony awoke from his slumber in the form of a lovable cartoon bulldog with an hilarious sidekick named Pussyfoot. Their short films were not the most popular, but well remembered nonetheless. Anthony faded again into obscurity.
In the 1980s, he returned with a vengeance as a handsome Grammy award-winning Salsa musician. He sold millions of albums.
Anthony's apparent immortality is far from the most interesting thing about him, though. After his musical career fizzled, he decided to take a break from singing. He instead focused on making love to Jennifer Lopez and making clothes.
He created the most comfortable sweater the world had ever known, so one can speculate on his lovemaking skills.
Specifically, the sweater is a navy blue V-neck that breathes so well it might as well be made of lungs. I don't buy clothes based on brand, but after wearing this sweater, I am officially a Marc Anthony boy.
With the sweater's thickness combined with its dark color, the sweater is extremely slimming. My breasts practically disappear under the elegant shroud. The shoulder holes are just wide enough to put one's arms through, so there is no illusion of arm fat where none exists.
The neck hole is wide enough to make my neck and head look thin, but it's not so wide that I look like a guy who would wear a medallion.
Somehow, my Marc Anthony sweater just works for everything. I've made other people try it on, so they will tell their friends. It looks good on fat people, skinny people, black people, white people, men, women and homeless people.
I have only one problem with this sweater. It's so soft that I panic every few minutes and have to look and make sure I'm still wearing a shirt.
While wearing this sweater, I am completely serene and content. My only hope is that Marc Anthony also makes underwear.
Rating: A
To contact Jake McMahon, email pioneervideo@occc.edu