U.S. Constitution celebrated during student meeting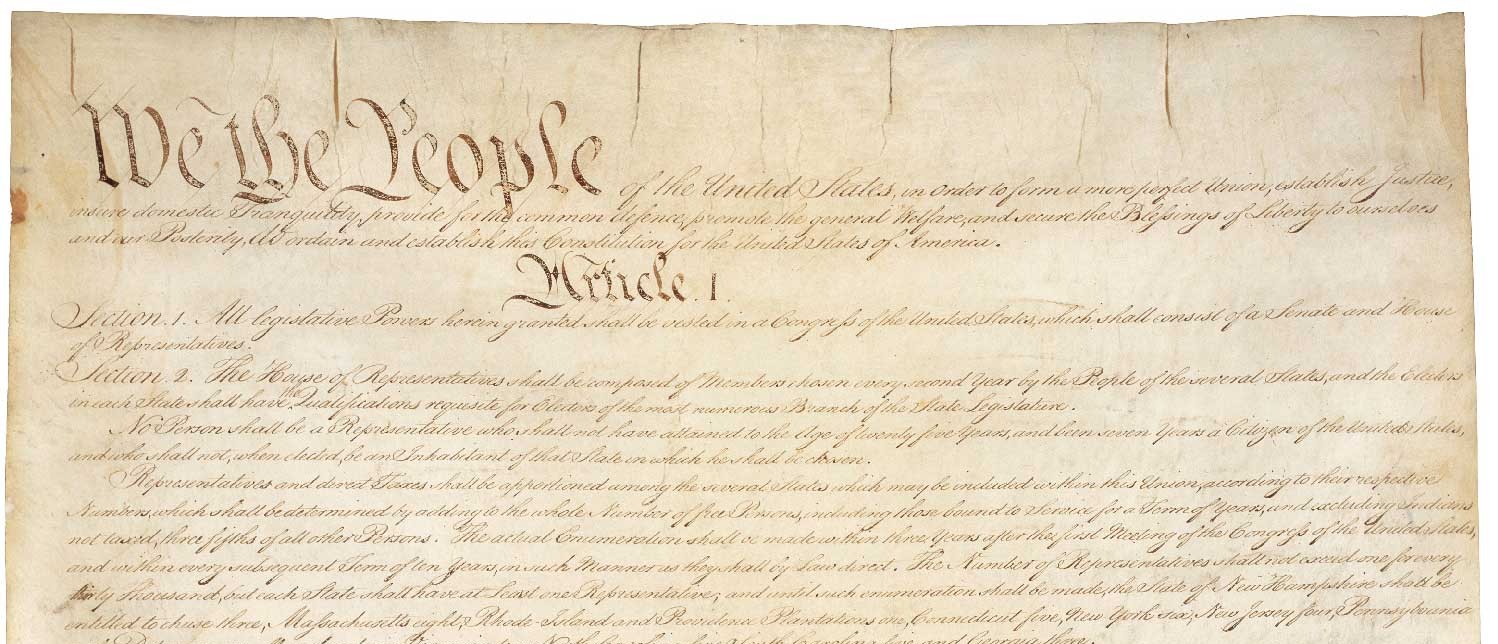 The U.S Constitution reached its 228th birthday on Sept. 17. The Leadership Council, the college's student leadership group, celebrated Constitution Day with a talk by political science Professor Nate Vanden Brook. About 50 people attended.
"Our country's Constitution is the single longest-operated constitution in the world without massive rewrites or changes," Vanden Brook said. "We have only amended it 27 times in the past 228 years."
He said the U.S. Constitution is not explicit about a lot of things, only about some things. Vanden Brook said that is by design.
He spent most of his 30-minute interactive presentation talking about the Establishment Clause in the First Amendment. It reads: "Congress shall make no law respecting an establishment of religion…."
"What does that mean?" Vanden Brooks asked.
There is no government-sponsored religion, he said, answering his own question.
"So how do we balance religion and the Constitution?" Vanden Brook asked.
He said it is difficult for the U.S. Supreme Court to strike a balance.
Vanden Brook talked about three different U.S. Supreme Court cases and how the Establishment Clause has changed throughout the years.
In 1962, the court ruled in Engel vs Vitale. In this case the state of New York issued a short prayer to be read at the start of each school day, but it was voluntary.
The court ruled the prayer violated the "Establishment of Religion" clause of the First Amendment, Vanden Brook said.
In 1971, the Lemon vs Kurtzman case resulted in the Lemon Test, where the justices spelled out that laws affecting religion must be "neutral" in their effect, neither favoring nor hindering religious practice.
The two cases involved in Lemon vs Kurtzman made public money available to religious schools. The Supreme Court ruled that these two cases did violate the Establishment Clause because government money would go to religious entities.
In 2002 Zelman vs Simmons-Harris case, Ohio piloted a plan to allow parents to seek vouchers to send their children to the private school of their choice, Vanden Brook said.
The question that was asked was does Ohio's school voucher plan violate the Establishment Clause. No, Vanden Brook said, because the court ruled the payments were given to parents and not directly to schools, making them "neutral" to religion.
"The meaning (of the U.S. Constitution) changes depending on who is reading it," Vanden Brook said. "The composition of the Supreme Court matters. The composition of the U.S. Senate matters. Who becomes president of the U.S. matters."
He encouraged everyone to vote in 2016, pointing out that voter registration forms were available in the Student Life office.
For more information, contact Vanden Brook at nvandenbrook@occc.edu.
TLC usually meets at 12:30 p.m. on the first and third Thursdays in the College Union. The next meeting will be Oct 22, because the third Thursday in October is fall break.