Tuition fee waiver application deadline April 20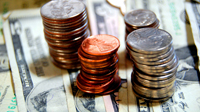 Students hoping to receive Tuition Fee Waiver scholarships for summer must apply in the Financial Aid office by 5 p.m. Friday, April 20, said Mia Rojo, assistant to the dean of Financial Aid.
Many OCCC students meet the requirements for a Tuition Fee Waiver but do not apply.
All applications go through the Financial Aid Office where Rojo makes certain applicants are eligible for a Tuition Fee Waiver.
A Tuition Fee Waiver is an opportunity for OCCC students to have up to six hours of tuition waived for the summer semester, Rojo said.
It's not cash, she said, but allotted credit hours.
Even if the tuition waiver is granted, students would still have to pay the fees, which amount to approximately $24 per credit hour.
Early Childhood Development major Katie Chesher said she wasn't aware the deadline was approching but would apply and encourages others to do the same.
She said the application process is simple and is not time consuming.
Rojo said once applications are in and the Financial Aid Office has approved their eligibility, waiver applications are sent to the division committee where the student's major field of study is located. The divisions are listed on the back side of every application.
She said the division committees then determine whether students can be approved for a Tuition Fee Waiver.
The committees have a specific budget to work with, which limits how many waivers they can award, Rojo said.
"Approximately 60 percent of students get some sort of waiver, depending on their department and their academic standing," she said.
In order to be eligible for a Tuition Fee Waiver, students must be an Oklahoma resident, have a minimum of a 2.0 cumulative GPA, be enrolled in a minimum of three credit hours, and have a transcript with the Tuition Fee Waiver Application.
For more information, visit the Financial Aid Office or contact them at 405-682-7525.
To contact Rachel Tillman, email onlineeditor@occc.edu.