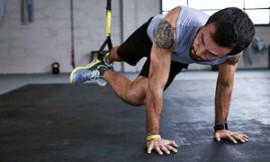 OCCC students who are looking for a functional fitness class to help them get into shape might want to try out the popular TRX fitness classes now being offered, said Wellness Center Manager Brooke Dresel.
The TRX classes, which have only just become available on campus this semester, use suspension bands to help strengthen the body, Dresel said.
"You use bands that are suspended from the wall to hold onto the handle from the other side. You use your body as the resistance, so it's basically body weight," she said. "The more of an angle that you put your body at, the more resistance you will get in the training."
Dresel said she believes the TRX classes are more helpful than weight training and other fitness exercises.
"You can also gain a more functional strength than you would, for instance, if you were doing weight training," she said. "You would be focusing on your bicep, doing bicep curls in the weight room. You would be staying in one plane of movement, so you're basically in a frontal plane when you're doing bicep curls.
"In TRX, you're moving across the planes of your body. In real life, more often than not, you're using multiple planes when you're moving."
The exercises in the class are great for students trying to get fit, because the focus on the body weight helps strengthen every part of the body, said Dresel.
"It helps you develop a more functional strength in your everyday movements without injuring yourself. You're really strengthening the support structures for the larger muscle groups as well, not just the muscle groups themselves."
TRX can definitely be intense, Dresel said, but added that it's also great for beginners because of its progressive approach. The class gets progressively more intense as it goes along.
"Everything progresses in a way where your heart rate is going up and it gets more intense as it goes on," she said. "This is good for people who are beginners because it's easy to gauge what you can and cannot do."
Interested students can find the schedule for the TRX classes at www.occc.edu/rf/wellness-classes.html or outside of the Wellness Center on the first floor of Main Building.
For more information about TRX or any of the other fitness classes, contact Recreation and Fitness at 405-682-7860 or visit www.occc.edu/rf/index.html.