TRiO students show Capitol leaders their importance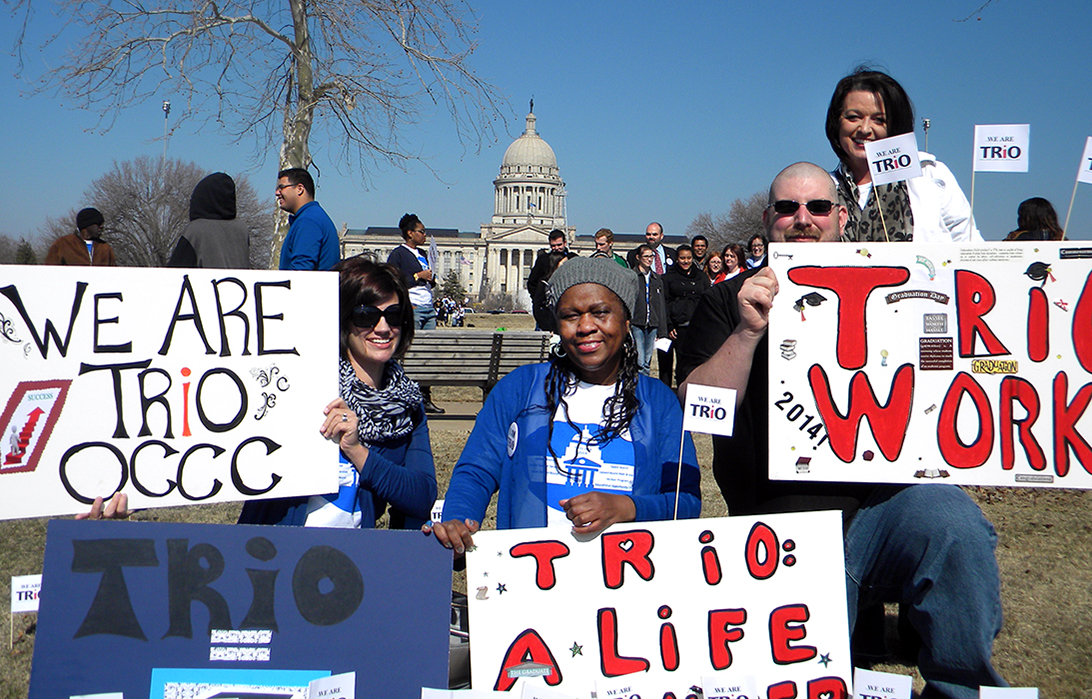 The federally funded TRiO support programs are necessary because they help students go from high school to college, as well as make sure the students graduate college, said Oklahoma State Regents for Higher Education Chancellor Glen D. Johnson.
Oklahoma leaders want the number of students graduating from college to continue to rise, Johnson said.
He spoke to hundreds of students, including four from OCCC, at TRiO Day at the State Capitol on Feb. 12, pointing to the success of more than 79 federally funded grant programs in the state. The event featured state legislators as speakers, as well as alumni students of the TRiO programs across the state.
"The work TRiO is engaged in is very important," Johnson said. "TRIO every day changes lives in our state."
Eighty-seven percent of all college students who graduate from an Oklahoma institution remain in Oklahoma, and have jobs, Johnson said. This year, about 25,000 students received help from TRiO programs across the state.
OCCC TRiO adviser Jermaine Peterson said for the first time at this event, they held a TRiO Works Flag Rally.
All the students and faculty took TRiO flags and planted them in the lawn in front of the state capitol building. The flags represented all of the students the TRiO programs have touched, Peterson said. They let the legislators know how important funding for the TRiO programs is.
"TRiO Works Day is a celebration of success stories from students of programs across the state," Peterson said.
One OCCC student explained how he benefits from the program.
"The TRiO program helps me learn how to find time for school and studying, even with a family and full-time job," said Stephen Herrell.
"It can get really hard, but the TRiO family helps me work through it, and do my best."
Herrell said the TRiO program at OCCC is great.
"They help you to get to that next level, or with anything they possibly can."
The other OCCC students who attended the event are Jeanna Dodd, Salyna Jackson and Lisa Lasater.
The TRiO program is available for students who are first-generation college students, low income or any student with a documented disability.
For students in the program, it provides help with filling out financial aid documents, tutoring, workshops on topics like transferring and scholarships, and tours to college and universities they might transfer to, Peterson said.
"The ultimate goal is to really push students to get a bachelor's degree," Peterson said. "Our program here at OCCC wants to brand ourselves as helping our students get to a four-year university."
The motto for the OCCC TRiO program is Graduate, Transfer, Succeed.
Students can apply for the program in the TRiO office located next to the Bursar's office. All the services are free to students who qualify.
For more information, contact TRiO at 405-682-7865.