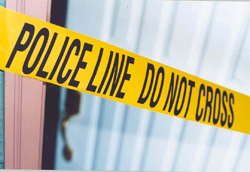 Trespassers and a library user viewing pornography were the major problems OCCC Security had to deal with over the last few weeks.
The trespassers, Jesse Hearon, 46, and Jackie Hearon, 47, were seen digging through a dumpster on campus by Officer Austin Plackemeier as he was driving in to work on March 2.
Plackemeier checked with officers on duty, who said they were unaware of the men, then went to confront them as they prepared to leave the campus in a flatbed truck, which was loaded with trash and scrap metal.
Both men stated that they were hunting for scrap metal, and produced state IDs.
Plackemeier requested a warrant check on both men from the dispatcher.
Jesse Hearon had an outstanding warrant in Cleveland County for failing to appear in court.
Jackie Hearon had a warrant in Oklahoma City for failing to show proof of insurance when pulled over.
Both men were detained and the Oklahoma City Police Department was contacted.
While waiting for the police to arrive, Jesse Hearon "stated that he had a syringe and some other drug paraphernalia in a 'Crown Royal' bag located in the driver's side door, and that there might be a pipe somewhere in the truck."
OCPD Sgt. R. Kirby arrived on the scene, was briefed on the situation and the drug paraphernalia, and took both suspects into custody.
On Feb. 14, Officer William Meyer and Officer Brandon Wheeler responded to a report of an individual viewing pornography in the Keith Leftwich Memorial Library.
Wheeler detained the suspect, aged 17, and determined that he had been viewing pornographic material and contacted the teen's mother.
The suspect's mother signed a trespass warning, and escorted the suspect off the campus.