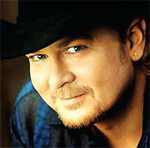 It was a cold and windy Saturday on the night of Feb. 12 when Tracy Lawrence took the stage at Cowboys in Oklahoma City. The popular nightspot was a packed house for most of the night.
When Lawrence finally walked on stage around 10 p.m. the crowd lit up with excitement.
Girls in attendance were screaming, "Paint Me a Birmingham!"
Lawrence did a wonderful job keeping the crowd energized throughout the show with witty comments, showing his fun side.
"Here is a song for all the hot grandmas out there," Lawrence said.
Not only was there a great country and western performance, Cowboys also had live bull riding scheduled for that evening, as the nightclub usually does only on the weekends.
Once Lawrence started playing his former hits "Texas Tornado" and "I See It Now," people hurried to the dance floor and starting pairing up.
The only drawback of the entire experience was the unbearable heat in the building.
Many sought refuge outside in the cooler air, only to be told the club was at max capacity and that they must wait until some people left to re-enter.
Fortunately, there was plenty of good conversation going on between those waiting to get back inside. Once back inside people were happy to help themselves to ice cold beverages and continue enjoying a great performance by one of country music's most popular artist from the 1990s.
When Lawrence finally played "Paint Me a Birmingham," the place lit up with people singing, dancing, and cheering.
If that show was any indication of what to always expect, I would recommend seeing Lawrence if the opportunity presents itself.
Rating: A