Tough times call for innovative fundraising measures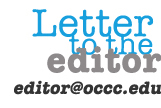 To the editor:
According to The American Association of Fundraising Council, charitable donations decreased by $11.4 billion last year alone.
Now more than ever, non-profits are threatened by the direct impact of the economic recession Their young supporters are forced to find new, innovative ways to raise money.
For instance, thousands of half-naked students, from UCLA to the coast of Florida, strip to participate in an "undie run" where they collect clothing for charities.
Also, North Dakota students build igloos where they collect money from passersby, and a school in Iowa holds an annual "knobby knee" contest.
Tough times call for more than just a creative breakthrough, especially when supporting the non-profits.
The Sage Mentorship Project (SMP), a group of more than 450 Berkeley students recently joined a fresh fundraising program, hosted by MyEdu.
The organization makes mentoring elementary school kids possible in the Berkeley and Oakland area.
"We plan on using the money we raise to purchase school supplies for all the elementary schools we work with," said Joel Gerson, SMP president.
"The mentoring program was created to address the major disconnect between tutoring and mentoring projects and building real relationships between college-aged individuals and our youth in the community."
"Working with MyEdu seemed like a natural fit since they too are dedicated to improving education," he said.
Other organizations are catching on to SMP's approach to raising money. Within four days of MyEdu announcing their "Share The Love" campaign, more than 200 student groups nationwide flocked to the site, the majority dedicated to raising money for a charitable cause.
Before the opportunity ends on Dec. 15, any student group can start raising money to support their mission through "Share The Love" at www.myedu.com/giving-back/student-organizations.
For more information about myedu.com fundraisers visit myedu.com or contact April Bennet at 512-469-9777.