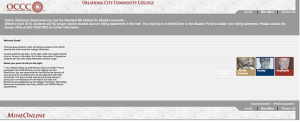 MineOnline is a cancerous growth draining the lifeforce out of every client user like a ravenous vampire unleashed upon the maternity ward of a hospital after being fed one rat a month in a dungeon for 10,000 years.
Why is there a maximum value for cookies?
Scientists are hard at work, trying to answer that, comparing data collected from the Earth's core by Richard Branson to Elon Musk's experiments after defeating the invading alien mothership as depicted in the documentary "Independence Day."
Currently, physicists are running tests in the OCCC Aquatic Center similar to the work being done at CERN in Switzerland in an attempt to measure the levels of tachyons, particles that may move through time non linearly, to see if that might explain why we use a web interface from before the discovery of electricity by James Cameron.
OCCC is in fact a hotspot for cutting edge research in many fields.
Linguists and computer scientists have been attempting to decipher the error messages from simple things like checking class schedules or grades — even logging in. They believe when they're finally done, the data will serve as a window into MineOnline's functionality and evolution.
Currently the daily sacrifices of a virgin lamb by the sys admin to the server room is a major cost for the campus, at a few hundred dollars a day. With the state budget calamity looming over the next few years, every bit of savings will count — some animal rights groups also find the activity questionable.
So MineOnline is highly, highly questionable. My therapist hears all about it. She considers it the primary cause of my depression and anxiety disorder, but as a civil servant, I carry on.
Rating: D