TLC votes to approve tuition hike, combat guns on campus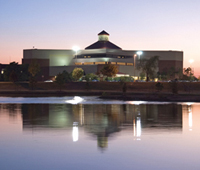 To combat proposed state legislation that would allow students to carry firearms on campus, The Leadership Council has passed an ongoing resolution expressing opposition to guns on campus.
The guns-on-campus issue starts at the beginning of the school year and is discussed every year, said Chris Hanna, TLC chair.
"It's our way of saying, 'Hey guys, we still think this is a bad idea,'" Hanna said.
The Leadership Council met on campus March 29. The council is comprised of representatives from each student club, as well as a small number of at-large members.
Gun safety is not a subject taken lightly by Oklahoma colleges and universities.
"All the college presidents from every university and college in the state have come out against any legislation that would allow firearms in their campus," Hanna said.
However, he said, it still comes as a surprise every year whenever a bill is written to allow guns on campus in the hands of people other than security professionals.
In addition to gun safety, TLC also endorsed the tuition increase that probably will take place for the fall.
TLC members supported the college administration by voting to accept a five percent tuition increase for fall if necessary to maintain the college's level of funding.
State funding is being cut from OCCC and other secondary institutions, Hanna said.
"In order for us to keep up with it, there is a need for us to increase tuition unfortunately," he said.
"No more than $5 for every $100 you spend," Hanna said.
He said that 5 percent increase would maintain OCCC at its current level to keep up with all the basic necessities such as lights, health insurance for employees, and keeping the school clean.
During TLC's last meeting April 26, awards were be presented to outstanding clubs. Their names will be displayed on a plaque for students to see.
To contact Alex Samia, email onlineeditor@occc.edu.