'Tintin' a thrilling adventure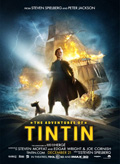 In a time where most animated films are done in CGI, producer Peter Jackson and director Steven Spielberg have reminded moviegoers of the beauty of motion capture.
"The Adventures of Tintin," based on the comics of Belgian writer and artist Hergé, follows a journalist named Tintin and his dog Snowy as he tries to uncover the story of the Unicorn, a ship that sank 300 years ago and is rumored to have carried a secret, valuable cargo.
Tintin and Snowy meet Captain Haddock, the descendent of Sir Francis Haddock, captain of the Unicorn, who joins them to beat the deplorable Sakharine in a race for the contents of the ship.
I went to see "Tintin" with my boyfriend and I admit, we may have been a bit biased toward it before we even saw it.
I love animated movies, and my boyfriend was adamant we see it, because if both Jackson and Spielberg (whom he regards as gods of the silver screen) were attached, it had to be amazing. Fortunately, "Tintin" met our expectations.
The story is loaded with action, from Tintin flying a plane through a thunderstorm to Captain Haddock reliving the swashbuckling stories of Sir Francis.
Writers Steven Moffat, Edgar Wright, and Joe Cornish also left room for plenty of humor, particularly with the bumbling bobbies Thompson and Thomson (voiced by Wright's close friends Simon Pegg and Nick Frost).
The motion capture surprisingly blends photorealism with cartoonishness well.
My only other experience with a full motion capture movie was "The Polar Express," and it tried so hard to be photorealistic, I felt it may as well have been done live-action.
For a movie whose main demographic is children, it certainly doesn't talk down to them. In the first 15 minutes of the movie, an informant leaves a clue for Tintin in his own blood before succumbing to a gunshot wound.
The movie makes no secret of Captain Haddock's alcoholism and the villains don't hesitate to kill anyone who stands in their way.
Overall, "The Adventures of Tintin" is a visually enhancing, action-packed, wonderfully told story that appeals to both children and adults.
Rating: A+
To contact Mary McAtee, email staffwriter2@occc.edu.