Tickets now on sale for college play 'Doubt'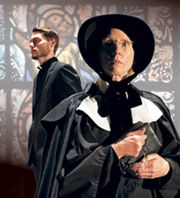 Alleged sexual misconduct between a parish priest and a Catholic school student forms the central conflict in a play to be performed on campus at 7 p.m. Tuesday, Feb. 28, in the Bruce Owen Theater.
John Patrick Shanley's "Doubt: A Parable" will be presented by the award-winning Montana Repertory Theatre.
OCCC's Cultural Arts Series has presented Montana Repertory Theatre before and is welcoming them back because of their high quality performance, said Lemuel Bardeguez, director of Cultural Programs at OCCC, in an email message.
"Doubt" is a winner of the Tony Award and the Pulitzer Prize.
It is a serious play that captivates the audience emotionally, intellectually and psychologically, Bardeguez said.
"Those with a love for staged intellectual dramas and those who have been following recent events in the media will be most interested in experiencing this wonderful, serious and important play."
The performance will appeal to those who "appreciate great writing and those who have seen the movie version of this play," Bardeguez said.
The Montana Repertory Theatre stated on its website that suspense is a strong component of the production.
"This performance will bring the audience to the edge of their seat and keep them on their toes even after the final curtain drops," Artistic Director Greg Johnson said on the website.
The tickets can be purchased online or at the box office. The prices are $10 for OCCC students and children 17 and under, $17 for OCCC staff, $17 for seniors, and $22 for general admission.
To contact Hayley Stevens or Meredith Hudson, email onlineeditor@occc.edu.