Thunder Closes Out Season Against Memphis
The Oklahoma City Thunder have earned their way into the playoffs.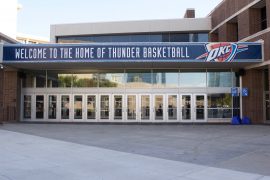 After Wednesday's night game against the Memphis Grizzlies, the Thunder closed out their regular season, 137-123.
Paul George said the team did a great job playing Memphis and that they played with force.
"You know these guys took care of business and found a way to win the game and close the game out," head coach Billy Donovan said.
It was a historic night for Russell Westbrook, as he is the first player ever in NBA history to average a triple-double in back-to-back seasons. He did so for the first time last year.
"I give all the thanks to the man above," Westbrook said. "I'm very very blessed to go out and play every single night."
"To have a group of guys that care for you, care about your well-being is a blessing," Westbrook said. "All these guys in this locker room are like my brothers."
Before the game, Westbrook went out on the floor and thanked Nick Collison for being his friend, mentor, and brother. They joined together at center court as the whole arena gave Collison, also known as Mr. Thunder, an appreciative standing ovation.
"It's amazing just how great this community is and just the love that they have for one of the best human beings I've been around so far," said Paul George said on Collison.
Collison said it was "very classy" of Westbrook to do what he did. "It was a cool moment for me, for him, for my family who was here tonight," Collison said. "We've been through a lot together.
The Thunder have made themselves a "dangerous threat" as the regular season comes to an end and as playoffs begin later this week.
One of OKC's struggles has been consistency of holding down a lead towards the last few minutes of the game. They've lost four of the last eight games, with each having less than a five-point gap.
Beating Houston last Saturday was a much-needed win for their chance in the playoffs, and winning against Miami on Monday solidified their spot.
OKC beat the number-one ranked team in the Western conference, Houston, 108-102. It was Houston's first loss in 20 home games. The Thunder also defeated Miami by a 22-point lead, 115-93.
"When the game's on the line, I knew what needed to be done," said Russell Westbrook about beating Houston.
Paul George added that the team needs to go into every game from now on with a mindset of needing these wins. "We control our destiny at this point," he said.
"It's the perfect time for us to be rolling like this, especially going into the playoffs," said Jerami Grant. "I like the momentum we have right now."
Collison said the Thunder will be "tough to beat", but that the other playoff teams will be too.
The Thunder have a 48-34 record, and are ranked seventh in the Western Conference.
"When we play our best, nobody can beat us," Westbrook said.