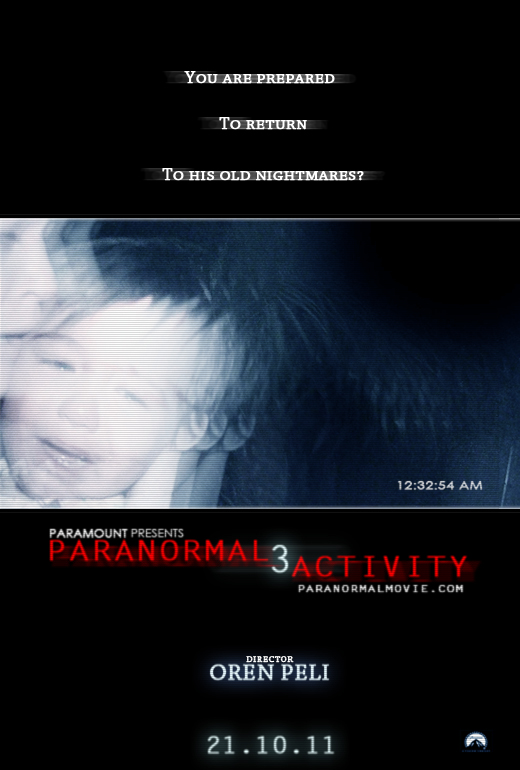 It's nearly that wonderful time of year again, when children run from door to door in search of candy, and hooligans throw pumpkins through car windows.
But for older kids and adults, a nail biting, hair pulling, "cling to one's boy or girl friend in interesting ways" thriller of a film can be a better way to spend the night than running about hoping the neighbors haven't given away all the Kit Kats.
Fortunately, "Paranormal Activity 3" dropped to theaters Oct. 21, and it's everything horror fans could dream of.
A prequel to the first two, "3" takes the audience back to where it all started, and ties up loose ends and questions.
"Paranormal" takes the best of the first two movies and adds its own little twists and turns.
As always, the cast is largely composed of unknowns to maintain the "found footage" feel the series strives for, with guest appearances from a couple of cast members from the first two movies.
While the entire cast deserves a standing ovation for the reality they infuse into their roles, special mention goes to the children who played Katie and Kristi (Chloe Csengery and Jessica Tyler Brown, respectively.)
Both young ladies played their roles perfectly, from Csengery's detailed portrayals of sibling frustration, to Brown's elegant capture of a young girl getting used to a camera, to both young ladies flawless interactions with a character that never appears on screen.
Another change of note is the speed with which the movie takes off. The first two built up to their climactic poltergeist-like effects.
With "3," it seems as though the directors realized the audience knew what was coming and set out to see how fast they could reduce reasonable adults to huddling lumps of terror.
Less than 20 minutes, actually. Filmed with the same understated grace as the first two movies, the special effects, while astonishing throughout, are neither flashy nor overdone.
At one point, the crew managed to make an entire roomful of furniture falling from the ceiling look completely natural and plausible. And of course, the screams rang out through the theater.
Overall, "Paranormal Activity 3" is perhaps one of the most heart-poundingly, jarringly frightening movies I've seen in my life.
The movie is rated R for violence, language, brief sexuality and drug use.
Out of the entire trilogy, this is the one that should definitely not be shown to children. Some of the more violent scenes involve the younger actors, and may disturb children greatly.
But for consenting adults that want a scream (and an excuse to cling to one other), this one is a must-see.
Rating: A
To contact Jeremy Cloud, email editor@occc.edu.