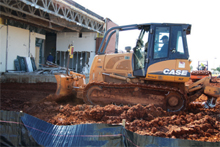 Robert Bolton/Pioneer
Workers from Downey Contracting prepare the ground for Oklahoma City Community College's new theater. The theater project is estimated to cost in the neighborhood of $20 million, an increase in funding was necessary due to the rising cost of materials. The theater will will feature a 1,000 seat acoustical concert hall once completed.
Downey Contracting began construction recently on OCCC's new 1,000-seat theater, which is being built inside the "U" formed by Phase 1 of the Visual and Performing Arts Center.
Some of the existing interior glass windows in the VPAC will be replaced with sheetrock for the next two years.
Students taking classes in the VPAC now will be dealing with bleed-through construction noise for months to come. However, by replacing the glass with sheetrock, noise should be minimal, said Superintendent Al Forehand, a nine-year veteran with the company.
One student said he could live with the noise.
"The construction doesn't really bother me," said Keelan Layden, computer science major. "Except for the fact my truck gets covered in dust if I park near the VPAC."
Forehand said he believes this will be a big addition to the OCCC campus.
"Keep adding," he said. "You want it to grow. Pretty soon parking will extend as far as 74th Street."
Downey beat out eight other contractors who also submitted bids. The Oklahoma-based company estimates the 600-day project will be finished by fall of 2013. Forehand said this would be Downey Contracting's first theater.
"The project will cost in the neighborhood of $20 million," Forehand said.
The OCCC Board of Regents approved the project June 27. Due to rising cost of materials, an additional $2 million was necessary to complete the anticipated $16 million theater.
The theater will feature a 1,000-seat acoustical concert hall. The theater will be outfitted with technically advanced audio, lighting, projection, and recording system, Forehand said.
No additional parking spaces will be required for the project, Forehand said.
Downey Contracting has constructed numerous jobs in the area, including the riding arena at the Oklahoma State Fairgrounds, the Myriad Botanical Gardens, and the Oklahoma City Children's Zoo.
To contact Joniel Prouty, email onlineeditor@occc.edu.