The time to file for financial aid is now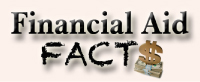 Paying too much for tuition, fees, books, and supplies? If you are paying the full amount of your charges owed the college for these direct costs, then you should file the Free Application for Federal Student Aid.
By filing the FASFA at www.fasfa.gov, you are allowing the OCCC Financial Aid Office to determine your eligibility for grants, loans, and student work to help with your expenses. Be sure to list the OCCC Federal school code 010391 on the FASFA.
Students who file each year often receive more than enough funding to cover their direct expenses and have remaining funds available for other expenses such as transportation costs.
Sixty percent of OCCC students who file the FASFA each year are eligible for the maximum amount of Pell Grant for the number of credit hours they are taking each semester.
The support provided by financial assistance an eligible student receives from filing the FASFA plays a significant role enabling the student to attend OCCC and continue to pursue a certificate and/or degree.
To more fully understand financial assistance programs, and to answer many questions you may have about financial assistance at OCCC you are encouraged to visit the Financial Aid Office webpage at www.occc.edu/financialaid. Review the valuable information from the numerous topics on the menu. Visit the Financial Aid Office for paper copies of various Fact Sheets or to ask questions. Call us at 405-682-7525 or email financialaid@occc.edu. File the FASFA now to access the financial resources for which you may qualify if you attend OCCC.
If you are a new student or a continuing student for fall semester 2012, you are encouraged to file the 2012-2013 FASFA now to allow time for the Financial Aid Office to review your eligibility for assistance.
General eligibility criteria include: U.S. citizen or eligible non-citizen; a high school diploma, GED, or meet state graduation requirements through homeschooling; be seeking a certificate or degree in a program eligible for Federal Title IV student aid; have a valid social security number; be enrolled as a regular student. Males must have registered for selective service between the ages of 18- to 25-years old. Students who have previously received Federal Title IV assistance must not be in default on a federal student loan or owe a repayment on a federal student aid grant. Additionally, you must have made satisfactory academic progress and continue to make progress based on criteria established by the Financial Aid Office consistent with Federal Title IV Regulations.
—Harold Case
Student Financial Support Services Dean