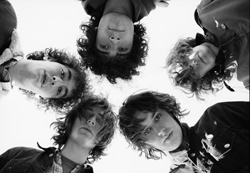 The show started 15 minutes late and ended 15 minutes early, but no one in the audience left without being moved.
The Strokes were one of the most anticipated headliners at this year's Austin City Limits Music Festival — and they fulfilled expectations and then some.
The Strokes played an energetic hour-long set that wowed the festival crowd.
The Strokes had not played a U.S. show in more than four years until recently.
The Austin City Limits show was one of several festivals the Strokes are currently playing across the U.S.
Julian Casablancas, the band's lead singer, took the stage in dark sunglasses and a leather jacket looking like a 70s era Joey Ramone.
The band played a set heavy with old hits like "Last Night" and "Reptilia" while playing several unnamed new songs for the first time.
As The Strokes were winding to a close, Casablancas said to the crowd, "We're going to play our encore now. We won't fake walk off the stage and then come back."
They then played a two-song encore that was subdued and moving with interesting guitar hooks and Casablancas' signature Lou Reed-style croon.
The Strokes' performance was magnificent with the songs flowing freely from the performers with no feeling of them being forced or hurried.
The Strokes have regained the title of avant-garde cool. All the other poseur imitators should fold up their skinny jeans and go home.
Rating: A-