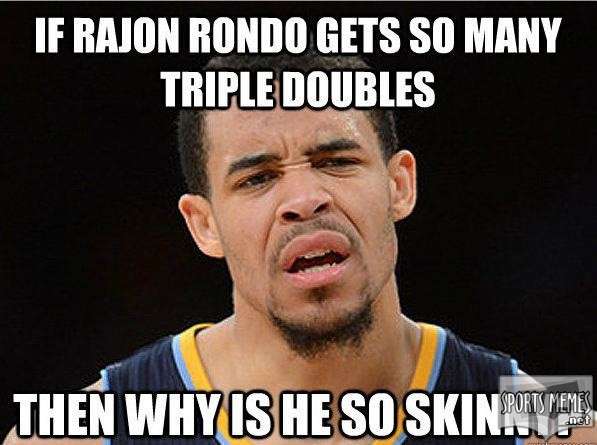 If you're an NBA fan, when you last saw "mercurial" (a word which here means "not a good guy") point guard Rajon Rondo, he was bowing out of a failed experiment with the Dallas Mavericks. Many were quick to write him off as washed up, and any other insult they could manage to think of. Personally, I think they were all wrong.
First of all, the Mavericks backcourt was dominated by ballhog Monta Ellis, who was in fact a shooting guard, but was the type of shooting guard who needed the ball constantly to thrive. Rondo is the type of point guard who needs to control the ball to facilitate the offense. You see where this is going?
Fast forward to this year. Rondo was signed to a one year deal by none other than the lowly Sacramento Kings. There are pretty much no expectations for this team, because barring a few successful years in the Mike Bibby and Chris Webber era, the Kings have been a team where players go to squeak out the rest of their playing time and ultimately fade into nonexistence.
This year's King's team has been sub-par at best. Rondo has been their only outlier. For some reason, people still thought Darren Collison was better than Rondo until he was relegated to the injury list, giving Rondo free reign of the offense. The results speak for themselves. Rondo leads the NBA in triple doubles this season at 4, something not even Golden State wunderkind and reigning NBA MVP Steph Curry has done even once this season.
Rondo has been tearing up the courts with his signature shifty style of play. The denizens of /r/nba have even seemingly flocked back to the former all-star's side, as highlights from almost every game he has played are voted up on the forum. Aside from the triple double stat, he is currently leading the league in assists with an even 11.0 per game, which is more than man highly touted point guards like Chris Paul.
I will end this by saying that yes, I am a Rondo homer. I love his deadpan humor, his competitive spirit and will to win, and his refusal to shake hands with teams that beat him (see Celtics vs Heat). He is eccentric, and an enigma, and the fact that he remains such a mystery still is probably the reason why he is, to me, the most interesting point guard in the NBA.