The legendary Melvins just get better with age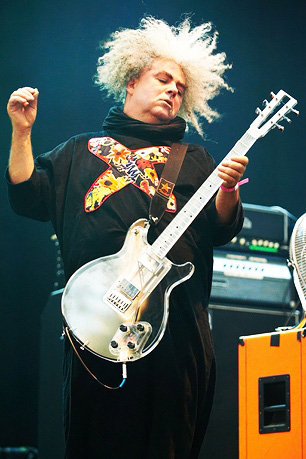 The crowd was screaming as Buzz Osborne, lead singer and guitarist for the legendary Melvins, made his way to stage. Norman's Opolis was packed to maximum capacity as the Seattle band rocked the stage Saturday, Oct. 20, leaving no ears unringing. If Kurt Cobain was alive he would have been as happy as ever. The grunge band that influenced Nirvana and a plethora of other Seattle bands were more than happy to show why they have had a successful career in rock music for the past 29 years.
Osborne may have gotten a bit older and his signature afro might have gotten a bit grayer, but he definitely did not let that stop him from playing some of the heaviest tunes I have ever heard live.
After starting with a song from their new album "Freak Puke," the crowd went wild. The song was not fast, but it was furious. Osborne was continuously rocking in place, hitting the same distorted chord over and over as drummer Dale Crover brought the drums in faster and faster. And, much to my surprise, the heaviest, most distorted bass I ever heard turned out to be an upright bass. I loved it.
Bassist Trevor Dunn is a recent addition to the band, adding a sense of youthfulness to the line up. Dunn, who is at least 44 according to his profile on Wikipedia, acted and played like an 18 year old. Dunn previously played for the legendary Mr. Bungle in the '80s and '90s. He brought a silly intensity to the music that included holding the gigantic bass over his head, lying on the ground with it and straddling it, all while playing with the best accuracy.
Each song intensified throughout the show, as the crowd got more and more aggressive. Even though the Opolis is a small establishment, there were quite a few slam pits going on upfront where I stood but they were not bothersome enough to worry about. Fans took their place on stage one after the other during a chance to stage dive into the crowd and the band just laughed on.
Before the show ended, Crover played a drum solo that intensified and lasted at least 15 minutes. Normally I would be a bit upset to have to hear a drum solo that lasted that long, but coming from a legendary drummer that has played with bands like Nirvana, Mudhoney, Hank 3 and Fecal Matter, I was more than happy to listen. And it rocked.
The Melvins are well known for their deafening volume and slow heavy music, and they did not disappoint.
The small club could barely contain the sheer power being produced by the sound system. After an hour and a half of listening, I left the show with my ears ringing for the rest of the night.
Even though I saw the Melvins during their youth once in the '90s, I was still impressed.
However, I wish they would have played some of their bigger hits like "Night Goat" or even "Sky Pup," which Kurt Cobain himself played drums for on the album "Houdini."
But I would say it was worth every bit of the $15 cover.
Rating: A-
—Shawn Stawicki
Contributing Writer