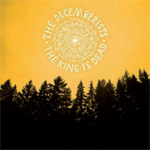 The Decemberists bring in the New Year with the drop of their latest LP "The King Is Dead."
Capitol Records will release the collection Tuesday, Jan. 18, and make it available for streaming in its entirety on NPR.com until then.
This folk-influenced indie-pop band has a sound reminiscent of Bob Dylan and Modest Mouse mixed with early '80s college rock. The band's line-up includes bassist Nate Query, keyboard/accordionist Jenny Conlee, drummer John Moen, and guitar/multi-instrumentalist Chris Funk.
Front man/songwriter Colin Meloy's lyrics in this album show off his knack for storytelling.
The presence of stringed instruments is definite. "The King Is Dead" goes into a more countryesque direction in comparison to 2009's "Hazards of Love." Don't expect any fussy charged-up explosive blows.
With the help of harmonicas, saloon pianos and warmhearted melodies, "The King Is Dead" is easily one of the greatest albums to drop in 2011.
Written and recorded in the spring of 2010 near their hometown of Portland, "The King" is a comparatively humble collection of folk songs.
Noticeably, the accordion is traded for a harmonica, which adds an extreme difference to the sound.
R.E.M guitarist Peter Buck plays a leading guest role on this album. Buck collaborates with the band in three tracks. His influence is noticed on the first single "Down By the Water."
The end result, according to Meloy, is a record heavily inspired by Buck's legendary outfit, with a sound that is said to be more "straightforward, driving folk/rock."
The Decemberists appeared on Leno Jan. 20 to perform the single "Down By the Water," featuring Buck along with Gilian Welch.
This song is notably the band's highest charting radio single ever.
Rating: A+