Tests, free condoms offered through V-day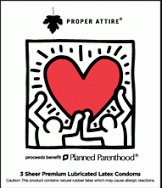 Many young people don't realize how common it is to contract a sexually-transmitted infection, said Terry Dennison, Planned Parenthood education director.
Dennison said National Condom Week, an event dedicated to informing students about safe sex and HIV/AIDS prevention, is Feb. 10 through 14.
He said the week is a tradition started in 1978 by a group of college students who wanted to bring attention to the many great things a condom can do for people in terms of prevention and sexual responsibility.
Dennison said instead of scaring people with campaigns about STIs and unplanned pregnancies, National Condom Week emphasizes humor and makes talking about safe sex fun.
He said the Planned Parenthood organizations in Oklahoma City have participated in National Condom Week for 22 years.
"[National Condom Week] reminds us that part of being a sexually responsible adult is to get tested on a regular basis and to take care of yourself," Dennison said.
Although condoms are less effective against STIs contracted from skin-to-skin contact, such as HSV-2 (genital herpes) or human papillomavirus, Dennison said, it's important to use them.
He said about half of all people will contract an STI by the age of 25, but wearing a condom can prevent this from occurring.
"The majority of people who become infected [with an STI] don't show symptoms," he said.
"[Condoms] significantly reduce the risk [of contracting an STI]."
Dennison said men often don't show symptoms for specific diseases such as trichomoniasis and women rarely have symptoms of chlamydia.
"One of the things we are trying to do with National Condom Week is show people that it's not just the same old stuff that your dad or grandpa once used," he said.
"There's a lot of variations in condoms — they can be a lot of fun and even open up communication in a relationship … "
Throughout National Condom Week, Dennison said, Planned Parenthood clinics across the Oklahoma City metro area will be giving out free condoms.
He said clinics always offer STI testing and accept most forms of major health insurance.
Dennison said students should get creative with condoms to liven up a responsible sex life.
"Just have fun with it," Dennison said.
"Have a themed day and use flavored condoms … there's just so many different things that you can always try.
"Make it a part of having fun."
For more information about the services offered, call Planned Parenthood at 405-528-0221 or visit www.plannedparenthood.org.
To contact Siali Siaosi, email seniorwriter@occc.edu.