Technology security highlight of conference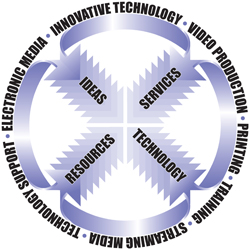 Help is here for students who want to receive their college email on their phones, need guidance through Moodle, want to get campus alerts by text message or want to learn about protecting their personal data.
Technology security will be the theme of this year's Convergence —  a recurring technological resources conference.
The conference will take place on campus from 9 a.m. to 5 p.m. Feb. 24 and 25, said Technology Support Services Director Tim Whisenhunt.
Whisenhunt said the event will be set up throughout the College Union rooms and at tables in the lobby of the Communications Lab offering information and discussion.
"The goal is to inform people about the resources available, whether they be faculty or students or staff, and then to be able to engage and find out what your resources are and what my resources are," he said.
Convergence allows Technology Support Services to better understand the needs of others on campus so they can help faculty, staff and students succeed and remove whatever roadblocks there may be, Whisenhunt said.
He said the value of attending Convergence has increased with each semester since its inception.
"This is something that originally started out being just for faculty and staff," he said.
"We've been trying to make it more informative for students now as well. There will be opportunities for them to learn all about some specific resources that will be available.
"In the past, staff from the Center for Learning and Teaching have done demonstrations about how to use Moodle and how to manage things within Moodle."
Whisenhunt said demonstrations will be led mainly by faculty and staff from various departments around OCCC,  but a few guests from beyond campus are expected to offer valuable insight to students and staff as well.
"We've got some people coming from outside to talk about cyber security and things that you could do to possibly protect your personal data," he said.
Guests may include representatives from the FBI and the Oklahoma Banking Association, Whisenhunt said.
He said Convergence is not entirely geared toward teaching the use of technology and resources.
"I hope it's a way that we can generate collaboration between different departments to accomplish different things … and help students to be successful and achieve their goals," he said.
"It's about opening up a dialogue and exchanging ideas.
"That's the idea — to be able to put people who have various needs and people that have various resources in the same area to see what grows out of it.
"I talk to people quite often that say, 'I wish I could do this' and I say, 'We can help you do that.'"
Technology Support Services is accepting conference session proposals from faculty and staff who would like to host a session at Convergence, Whisenhunt said.
Those interested in demonstrating methods of use for resources or technologies can email a session title and a brief overview of the content to convergence@occc.edu for consideration.
He said he welcomes involvement from those at OCCC.
"Right now, we're sending out information to try to get ideas from faculty members [who] would present something they can share with their peers about their teaching methods and how they can use technology in the classroom."
For more information, call Technology Support Services at 405-682-1611, ext. 7349, or email twhisenhunt@occc.edu.
Check the Pioneer Online at  http://pioneer.occc.edu for a full schedule of Convergence events.
To contact Jorge Krzyzaniak, email seniorwriter@occc.edu