Teachers Fed Up With Low Education Funding
Allie Morris, is an aspiring teacher in Oklahoma. Today, Morris faces a reality that all public-school teachers in the state face: the average teacher's salary is aorund $42,000 a year, almost $13,000 below the pay of a teacher in Texas, and almost $16,000 below the national average of $58,000.
The low pay, Morris said, has changed her life.
"I can't have kids when I want to because I couldn't support them on a teacher's salary," she said.
Because of their pay, teachers in Oklahoma often live from one paycheck to another. Most can't even support their families on their paycheck and many work a second job just to make ends meet.
Eyvonne Fulsom, a fourth-grade teacher, said at her school they only have two teachers to each grade level next year. She said that buys printer paper for the school and it's expensive. The copies are often for homework because there are not enough textbooks to cover her class rooms.
Fulsom said her textbooks were "outdated, several are more than 10 years old." She said the teachers at her school are just as underpaid and about three-fourths of her single co-workers have to work a second job.
Fulsom retired in 2010, after 32 years of teaching, but was forced back into the schools, because her retirement pay not being enough to live on.
She said her retirement income (after 32 years) was exactly $2,020, but $576.00 of that came out for insurance.
This week, teachers took Fulsom and Morris' complaints to the state Capitol, launching a statewide walkout to pressure the Oklahoma Legislature into increasing education funding.
The walkout followed the passage of House Bill 1010xx, which earmarked a $5,000 pay raise for public school teachers.
However, despite the significant increase in their pay, many teachers say they are still not satisfied.
One concerned teacher from Southern Hills Elementary, who asked not to be identified, said the pay increase should in fact be more than what they're offering.
"Because without the teachers the children won't have a way to learn, and not only do we educate the children, but we form them to become great adults," she said.
Christy Morrow a librarian at Bridge Creek Middle School the bill was a start but it's not enough.
"It's not enough to dig out of the ten-year hole, but I can definitely view it as a good faith beginning," she said.
Andi Benson, a reading specialist at the same school said lawmakers haven't fully funded what the schools for students and for the classroom operation.
"We are so greatly behind as a state in the funding of education. I'm not sure how they're ever going to fill in the gap," Benson said. "I also wish they had included something for support staff. They are a vital part of making our school work and they get paid so little. I do feel grateful for what they have offered but I'm also concerned that it may be a temporary fix. I don't completely trust legislation to keep their word for the future. They are already picking away at what they promised just four days ago, taking away some of the funding that was in the original bill."
Morris said she hoped the walking would focus attention on the state's education fund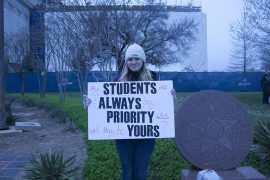 ing problem.
"Seeing what football players get paid to walk around the field in tights versus what the teachers who shape the next generation's minds get paid is really disappointing," she said. "I hope people see the importance of teachers and the staff. The emphasis needs to be placed on the teachers."
Heather Bradbury, an art teacher at South Moore high school, said the walk out wasn't just about pay.
"It's funding for the school, and before students can even see that funding it gets ate up by things like bills and substitutes. Our workers that help with special needs students make $600 to $800 dollars a month. Most of my own students make more than that working fast food for twenty hours a week," she said.
Bradbury said 363 teachers leave Oklahoma each month due to the low salary. This in turn forces school districts to use emergency certifications, which she said cause problems in the lower grade levels.
"Because they don't know what they're doing and if the students don't learn by third grade chances are they'll never be on level. In higher levels like middle school and high school we're starting to see that," Bradbury said.