Taking a Knee Still Sparking Debate
On August 14 San Francisco 49ers quarterback Colin Kaepernick sat during the national anthem.
Now, more than a year later, people are still talking about Kaepernick. Not for football, but for his movement.
Kaepernick isn't the only one.
Kaepernick said sitting down was taking a stand against police brutality.
"I'm going to continue to stand with people that are being oppressed," he said. "To me, this is something that has to change and when there is significant change and I feel like that flag represents what it's supposed to represent and this country is representing people like it's supposed to, I'll stand."
He was not going to stand up to show pride in a flag for a country that oppresses black people and people of color.
His teammates joined alongside him. Eventually players from other NFL teams, players from other sport leagues, universities, and high schools would join the silent protest as well.
Kaepernick is currently not signed to any National Football League team. Many believe this is because of the controversy surrounding his protest.     
In October, Kaepernick filed a grievance against the NFL. His case argues there has been collusion amongst NFL owners to keep Kaepernick from being on a team. Kaepernick's football stats show that he is good enough to be in the NFL. However, many believe he has no case at all, meaning it would be very hard to prove collusion.
In March, Kaepernick had opted out of his contract with the 49ers and became a free agent. It was said that he would've been cut from the team had he not left.
General Manager John Lynch confirmed the statement, and added that new 49ers coach Kyle Shanahan was going to coach things differently this year, and that Kaepernick wouldn't "fit in" as a back up, as they were pursuing another quarterback.
"We gave him the option: 'You can opt out, we can release you, whatever,'" Lynch said.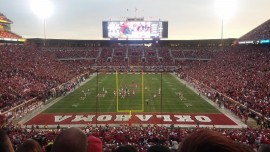 In November, Kaepernick was named "Citizen of the Year" by GQ Magazine, creating much controversy everywhere from ESPN to Fox News. Many believed that Justin James Watt, known as J.J, the Houston Texans NFL player who donated $37 million to Hurricane Harvey victims, should have received it. Others thought he deserved it for leading one of the top movements of the year.                                                                                                                  
Kaepernick has not only caused an uproar in sports, but also amongst people who serve and have served the country.
People thought him sitting during the anthem was disrespectful to America. He said it was never his intention to offend the military.
"I have family, I have friends that have gone and fought for this country and they fight for freedom," he said. "They fight for the people, they fight for liberty and justice for everyone. And that's not happening."
Nate Boyer, a former U.S. Army Green Beret, wrote an article for the Army Times about his view on Kaepernick. The publication chose Boyer specifically because of his unique military and football background.
"When I first saw him, I made a snap judgement. I was angry and I was disappointed because I grew up a Niner fan," he said.
"That anthem means different things to us," Boyer said. "America means different things to us."    
Boyer played for the University of Texas's football team as a snapper and was a 31 year-old walk-on. He would go on to play for the Seattle Seahawks as an undrafted free agent, but for only one preseason game in 2015.
Boyer published the letter on the The Army Times' website. Kaepernick's publicist contacted him saying that Kaepernick was "touched" by his letter, and wanted to talk about the issue. The next day, they both met and had an hour-and-a-half-long discussion.
"I [wanted] to try and understand where he's coming from, at least somewhat because I haven't walked around in his shoes. But he hasn't walked around in my boots," he said.
It was Boyer who suggested that taking a knee was a sign of respect, and a more appropriate way for Kaepernick to get his point across.
"People take a knee to pray… [and] standing in front of a fallen brother's grave, [soldiers] would take a knee," he said. "I saw that image much more respectful."
Later that night, Boyer stood alongside Kaepernick as he took a knee for the first time during the national anthem. And Kaepernick would take a knee from then on.
In September, President Trump criticized those taking a knee at a Republican rally in Alabama.
"Wouldn't you love to see one of these NFL owners when somebody disrespects our flag to say 'get that son of a b**** off our field right now.' He's fired!"
That Sunday, more than 100 NFL players knelt during the anthem, while entire teams linked arms.
Trump also said that his comments had nothing to do with race, but that they dealt with respect to the country.                             
In an interview with Tavis Smiley, sportswriter and activist Dave Zirin said Trump wasn't prepared for the reactions that NFL players would have regarding his remarks.
"What he did not understand is what they call in the NFL, the 'Brotherhood'," he said. "The idea that players will stick up for each other if one of them is attacked."
Zirin references sports sociologist Dr. Harry Edward, in which Edward said the end goal of the Montgomery Bus Boycott was not about Rosa Parks getting a seat on the bus, but "was about something bigger than that."
"And this really is something much bigger than Colin Kaepernick, and he realizes that," Zirin said.                                    
Dominique Dulaney, President of the Black Student Association at Oklahoma City Community College says he admires Kaepernick for taking a stance.
"I think that it's a good movement to stand up for freedom of speech," he said. "It isn't a color thing, it's a stance for our first amendment."
Dulaney said police brutality has always been there and Kaepernick "went against the grain," receiving negative publicity for bringing awareness to the issue.
"It's a way of life that he's fighting for. And not many people have the guts to stand up against a whole country and lose your job and step out of your comfort zone to stand up for what you believe in."
He said the 2017 movement has done its job and that next year it's time to put that work into effect.
"People run and ride away from the truth and the facts because it makes them uncomfortable," Dulaney said. "For 2018, now that it's acknowledged, it's time to address and fix."