Take Ab Express for core strength and fitness
OCCC students and community members looking for a quick and exciting fitness class may enjoy the Abs Express class.
The class, which meets from 5:05 to 5:25 p.m. each Monday and Wednesday, is a quick way for participants to work out their abdominal muscles and backs muscles, said class Instructor Elizabeth Hobi.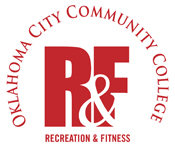 Hobi, who teaches an array of fitness classes at OCCC, said the class uses Pilates and back exercises to strengthen the abs and core of the body. Planking, crunches and calisthenics, among other similar exercises, are important to this intense, but quick, class, she said.
Recently graduated computer science major David Schrock said he has taken many classes with Hobi and learned about the class from her. Schrock said the workout has been the most beneficial part.
"My abs are pretty hard now, plus I have better posture and less back pain," he said.
Liberal studies major Sarah Landon said she found out about the class in a similar way to Schrock.
"I was actually taking a different class that Liz teaches, and she likes to talk about the other classes that she teaches," she said. "I decided that with my work schedules, I could squeeze in 20 minutes of abs."
Participants don't need to come into the class already fit, Landon said. She said while new students may find a learning curve, it is not difficult to get into the workout.
"I hadn't done any working out as far as core exercises before coming to this class," Landon said. "That makes it harder in the beginning, but it gets easy surprisingly quick.
"And it's only a 20-minute class, so it's over before you realize it, even if you're not in good shape. It's difficult, but it's a really manageable length of time."
Group Fitness classes are free for all students, but Hobi said students must register for the classes to give the Recreation and Fitness department accurate numbers of class attendees.
For more information, contact Hobi at elizabeth.hobi@gmail.com, Health and Fitness Specialist Carole Valentine at carole.m.valentine@occc.edu, call 405-682-1611, ext. 7662, or the Recreation and Fitness office at 405-682-7860.