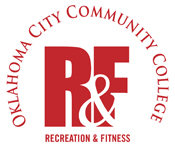 Students interested in learning how to properly defend themselves may want to try to the taekwondo class offered here at OCCC, said instructor Brian Rojas.
The class, which is held every Thursday at 6:30 p.m., helps students learn how to protect themselves in different life situations while also teaching various values.
"Taekwondo is a Korean martial art," Rojas said, "it's a martial art that has been taught for hundreds of years in Korea, and came to the Western world. It shows you discipline, courtesy, self-control, integrity, perseverance."
Taekwondo is built around these traits, Rojas said.
"With courtesy, you have to show respect to your instructors and fellow students. Integrity, you have to hold yourself to a high standard. Perseverance means you have to keep on going even if you can't do something."
Rojas explains that everyone starts off on the same level, and throughout the class, students work their way up.
"Everyone starts as a white belt, and you have to keep persevering to accomplish your goals, so you can gain a higher ranking."
Rojas says the class really is great for students who want to try something new.
The class has various exercises that are great for both personal fitness and for properly learning self defense.
"We warm up, by doing stances and then going into stretching. You have to get stretched out so you can do high kicks, as well as turn faster. You have to stretch so you can get your legs higher and get the full motion of the kicks out. We learn blocks, like down block, middle block and up blocks," said Rojas when explaining the class.
"Then, we move on to the self defense part of the program, which is how to defend yourself if someone tries to grab your wrist or wrap you around in a bear hug or they try to take you down. Things you'll need if you need to defend yourself in an actual life situation," he said.
While the class does focus on self-defense, Rojas said, it's great for students looking to get fit.
"We do stretching, we do meditations, and we go into high intensity training. It's a great cardiovascular workout."
Rojas also says he has taught all kinds of students, so there's no experience needed.
"I've taught classes for 3 year-old, 4 year-old kids all the way to students who are 60 or 70 years old. We go at our own pace. Some students have been there for four or five months and some that just started two weeks ago and they're excelling at their own pace."
Recreation and Fitness customer service assistant Patricia Ross is someone who just recently started taking the class, and really enjoys it.
"I just wanted to have something to put myself into. I used to be into aquatics, and when the pool closed, this is what I gravitated towards."
"It's a new experience. Who doesn't want to learn how to defend themselves? I always wanted to learn how to do it, playing video games and things like that growing up. It's a great workout and it also develops personal growth."
Interested students with questions about the self-defense class or any of the other fitness classes on campus can contact the Recreation and Fitness Department at 405-682-7860.