Survey shows OCCC students quite satisfied
OCCC students are some of the most satisfied in the nation, according to a recent survey.
Institutional Effectiveness Director Janet Perry said 1,238 OCCC students participated in the April survey, issued every two years, to gauge the students' opinion of the school.
"The primary goal of the survey is to determine how students feel about the college, how satisfied they are with the services they're provided here at the college," she said. "And by finding that out, we can determine whether or not we need to change anything — what we need to improve upon."
Students who took the survey rated their satisfaction with the college higher than the national average in all 70 survey questions, Perry said. All OCCC students are given the opportunity to participate, she said.
"Compared to the national average, we're doing an exceptional job here at the college responding to the students' needs," she said.
"You want to look at your level of satisfaction, and compare it to the national level of satisfaction.
"There were 70 questions we could compare in the satisfaction, and, of those 70 questions, the college was statistically significantly greater than the national average which is outstanding."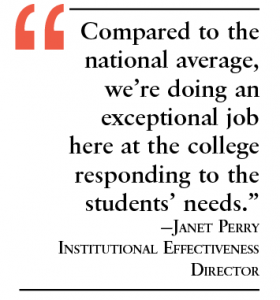 Perry said the survey focused on 12 areas, which included: academic services, academic advising and counseling, instructional effectiveness, safety and security, campus climate, service excellence, admissions and financial aid, individual concern, campus support services, responsiveness to diverse populations, registrations effectiveness, and student centeredness.
She said the survey used — the Noel-Levitz Student Satisfaction Inventory, hosted by Ruffalo Noel-Levitz — was first used in 2013, after nearly two decades of using a different survey.
"We used the Student Opinion Survey up until 2013, when … the Student Opinion Survey company decided that they were no longer going to have it," she said.
"I did research on all the student satisfaction surveys out there, and I mapped the questions from one to the other to see which one closely resembled the one that we had been doing since the 1990s, so we would have very similar data."
Perry said the Noel-Levitz survey was taken by 185,000 people from 208 community colleges around the U.S.
"It's not a small pool, so that's pretty significant to compare us to them," she said.
She said student response was 34 percent higher than in 2013.
"So we had a much better response rate this time."
Perry said, based on the survey, OCCC students indicated their biggest complaint was professors not notifying them earlier about poor grades.
"That's one we are going to be looking closer at," she said.
"They're going to be encouraging more faculty to do more on Moodle to make those grades accessible to students, so they understand in their course time how well they're doing.
"We continue to do things like that, especially when we see things pop."
Perry said this is not the first time a specific issue has "popped," and said the solutions that brings about typically bring survey ratings back up.
"When we did surveys a few years back, we noticed students were dissatisfied with the time they spent with speeches in the classroom," she said.
"We don't require students to take a speech class, but we thought, 'How would we improve this whole process?'
"So we created the speech lab, available to all students. So if you're practicing for a speech, you can go in there and tape it and see how you're coming across."
Another thing that stood out to Perry was how highly students think of the education they get at OCCC.
"One thing that they ask the students is, 'How important is the following in creating your decision to come to the school?'" she said. "And the top three areas are cost, financial aid and academic reputation.
"As a community college, to see academic reputation as the third choice, it's awesome."
Former President Paul Sechrist voiced his praise for the survey's results in a press release sent to faculty and staff on June 30.
"The dedication of OCCC faculty and staff is clear in the results of this survey," he said. "Over the years, we have worked hard to focus on the needs of our students.
"This survey tells us that we are going in the right direction."
Many students agree.
Nursing major Tatiana Elong said she has found her experience at OCCC enjoyable.
"I don't think I have a least favorite [thing]," she said. "I really like the system and I like the professors. Most of the professors are really helpful and the help centers are really nice."
Civil engineering major Jeremy Ng said he enjoys almost everything about OCCC and would only change one thing.
"Maybe better food in the cafeteria," he said.
"I ate there once and was like, 'I'm probably not coming back.' Other than that, OCCC is really good."
Perry said she was encouraged by comments left by students on the survey where they got a chance to voice their specific concerns or just give an opinion about the school.
"One comment stood out to me," she said. "They said, 'OCCC is the bomb-diggity.' And I was like, "The bomb-diggity? What does that mean?"
"But someone told me it was a good thing.
For more information about the Noel-Levitz Student Satisfaction Inventory, or the results of the survey, contact Perry at 405-682-1611, ext. 7213, or at jcperry@occc.edu.