Students weigh textbook buying options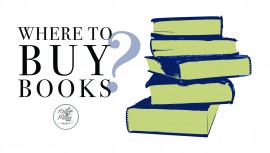 At the beginning of each semester, the price of textbooks becomes a primary concern for students. One wrong decision while purchasing, could cost hundreds of dollars.
Students, especially newcomers, wonder whether they should buy textbooks on campus or somewhere else, or if they should be renting or buying.
OCCC's Textbook Manager Sheila Laferney said there are advantages to buying at the college bookstore.
"[Students] can make sure they get the correct book, and can make exchanges or returns if needed. They can just bring it in here with the receipt," Laferney said. "I can't comment on other people's websites because they are not our website. The books we have in our bookstore are always the correct books, most of them are custom, and we conveniently have customer service."
She said the bookstore provides options for its shoppers.
"Students can buy a brand new or used textbook in the bookstore, or they can rent," Laferney said.
She said sometimes bookstores have complicated policies toward buying books back.
"Sometimes we have to pay a lesser amount because of the software that is included with the book. Sometimes, we can't buy a book back because it requires a code. If they [professors] are not using them in the next semester, we can't buy them back," she said.
Rheis Campbell, pre-engineering major, said in his first semester he spent about $400 for his textbooks at the bookstore.
"If I want to buy textbooks with my financial aid money, I have to buy them in here," he said.
Campbell said instead of making a rush decision, there are alternatives that help students save money.
He said there are many places where people can find lower prices for textbooks if they already have access to money for books.
"I would recommend that you find out from your teacher first what the book is, then look at eBay, or Amazon.com. It is almost always going to be cheaper than buying them at school," he said.
Campbell said students should not worry too much about getting a book's latest edition.
"In my experience, most professors don't really mind if you have an older edition of the book," he said.
Campbell said the Textbook Buyback event at the end of each semester hardly offsets students' original costs.
"Sometimes, you buy a $100 – $150 book. You can sell it back to the bookstore and you might get $50 back, just depends what kind of book, but usually you don't get much back," he said.
Pre-Law major Ariadne Rodriguez said buying textbooks, especially brand new ones, is a waste of money.
"Renting is actually a good choice and a better choice," Rodriguez said. "One of my professors told me that I didn't have to buy a book, I could just rent and it would be a lot cheaper."
This fall, Rodriguez enrolled in four classes and said she hasn't decided where to buy textbooks yet. She said her friends advised her to shop at Amazon.com.
Nursing major Yonata Younis said he was still carefully reading the list of eight textbooks required for his classes this fall.
"Not all of them are textbooks, some of them are lab manuals and study guides," he said, "I think it will cost around $600 in total. I definitely shop around before buying from anywhere."
Younis said he is not going to buy all of the books until he speaks to his professor.
"For freshmen, they should definitely wait," he said, "Go to your classes first to see what the curriculum is like and if the textbook is really needed. If the textbook is required, shop around before buying."
Textbooks are available outside the college bookstore at Chegg.com, Amazon.com, and Half.com or at Textbook Brokers, at 7445 S. May Ave.