Students shocked by terror in Bangladesh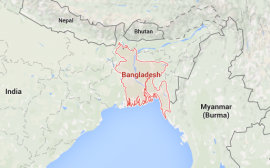 Twenty foreigners, including some students, were murdered in Dhaka, Bangladesh while some sat inside a bakery recently according to NBC News and OCCC students who have family and friends living near the carnage.
Then just last week, during the holy Muslim Eid celebration, another attack on Bangladeshi Muslims caused the nation to mourn according to CNN and other OCCC students who are still recovering from hearing the news.
No OCCC students were killed in either of the attacks.
The motive behind the first attack by Islamist radicals who claimed responsibility was to torture and kill any non-­Muslims in the building unable to recite the Koran, according to BBC.
The siege lasted nearly 12 hours before more than 100 Bangladeshi commandos bombarded the café resulting in the death of six gunmen and others arrested.
The second attack, according to experts, may have been aimed specifically at Muslims.
While the attacks were unfolding, OCCC students from Bangladesh, including Farah Zabin, say they were shocked, saddened but determined to not be defeated by extremists who want to terrorize the country.
"We are known as the country of tigers, wounded, but not defeated," Zabin said.
Zabin was in Daka and just miles from the bakery attack.
""I was pretty shocked because this type of hostage situation never went down in our country before." Zabin's home is just 15 minutes from the bakery where ISIS-affiliated-militants killed many students who were in Bangladesh visiting family and friends during the Ramadan holy month.
She was not harmed in the attack, but she expressed her sadness for a neighbor of hers.
She said Farazz Hossain, 19, who was inside the café at the time of the attack was herioc.
"Faraaz was given a chance to walk out of the building by the terrorists, but he decided to stay because they didn't allow two of his foreign female friends to leave, and so he was killed," Zabin said.
Salim Khan Srabon, another of many Bangladeshi students at OCCC also spoke of Faraaz.
"He was an embodiment of true friendship" Srabon said.
Sabran was affected by the ISIS-­claimed attack also.
He said he was in the US watching news reports of both the Bakery and the Eid bombing and of shoot outs when he became emotional.
"After watching the news, I became worried about my relatives and friends who live in Bangladesh," said Srabon.
He said he had contacted them and none had been injured back home.
Based on the location and timing of the strike that took place during an event where 300,000 people gathered together in mass prayer, ending the Muslim holy month of Ramadan, CNN has reported that the most recent attack may have been directed entirely at Muslims.
"Bangladesh is a country with many cultural activities. People are peace loving, and they weren't ready for that attack," Srabon said.
The investigations of both attacks are still ongoing and India has sent a special team of investigators, as reported in the Dhaka Tribune newspaper in Bangladesh.