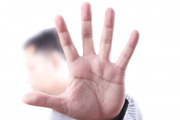 Nutdanai Apikhomboonwaroot/
FreeDigitalPhotos.net
One in six couples in Oklahoma will be affected by relationship violence, a distressing statistic that students paused to reflect on Oct. 18 on campus. OCCC hosted Silent Witnesses, a project commemorating individuals who were murdered by their current or former intimate partners.
Free-standing, life-size silhouettes lined the common area in front of the Communications Lab, each bearing the name of an Oklahoma victim and his or her story.
Students and faculty members stopped to read the stories.
"I'm surprised by it," said Anna Jacoby, nursing student. "It's a back-to-reality kind of thing. It's sad."
For some students the message hit close to home.
"I'm moved by this," said Edward Duncan, first semester student. "I can relate to this because I was one of these guys, but I changed."
At noon, Student Life hosted Take It Back, a silent march that lasted about 15 minutes.
The march was to honor the people who have been in violent relationships and to let them know that there are people who do care and want to put an end to it, said Diana Rivera, allied health student and student programs leader for the Office of Student Services.
"I've had friends go through it, and I was once in a bad relationship," Rivera said. "I feel for those people."
Rivera participated in the march, along with seven others. The group began the march in front of the communications lab and went around the first floor of the main building. They carried signs that said "Walk a mile in her shoes," "Stop the Violence," and "You should never fear your loved ones."
"Seeing other students stopping to see the posters—knowing that while not many participated, they understood what was going on—it meant something to me," Rivera said. "I enjoyed it."
After the march, the group gathered in the courtyard for a moment of silence. Student Support Services and Student Life presented flowers to Priya Desai, director of Outreach, Education and Volunteer services for the Oklahoma City YWCA, on behalf of OCCC. Desai had given a presentation on relationship violence earlier in the week.
Silent Witnesses and Take It Back were sponsored by Student Support Services and Student Life as part of Relationship Violence Awareness Week.
Student Support Services provides resources for students who find themselves in a violent relationship.
'"We have therapy sessions so they can talk about their relationships, and it's all confidential." said Jenna Howard, counselor at Student Support Services.
"Sometimes people aren't ready to leave, so we help make a safety plan.
"We help them learn about different options."
Student Support Services has hosted Relationship Violence Awareness Week for the past three years.
This was the first year Student Life organized a silent march as part of the event.
To contact Michelle Borror, email onlineeditor@occc.edu.