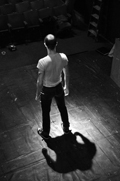 Two OCCC students have been invited to compete in a national theater contest as a result of their performance in this fall's production of David Mamet's play, "American Buffalo," which was performed on campus.
Gabriel Pranter and Mitch McFarland were nominated for the Irene Ryan competition affiliated with the Kennedy Center American College Theater Festival.
Theater Professor Brent Noel said the actors will go to a regional festival at the University of Oklahoma in February.
McFarland said it was difficult balancing rehearsals with classes.
"I was here for 13 hours [a day] all September," said McFarland, who played Bob, the young, non-confrontational character in the performance. "It was a great show. I wouldn't do it again under those circumstances, but I would do the show again."
McFarland, who started performing in 2009, plans on sticking to theater and continuing to act after he graduates.
Pranter played Teach, the gritty character who denies ever being wrong. He said he plans on acting after college as well.
"I love this art. It is my life and I hope to continue for as long as I can.
"To be nominated for an acting award in the state of Oklahoma feels fantastic," Pranter said.
"I am quite humbled that I have been selected to compete against some of the best stage actors in this state. It is going to be a wonderful experience."
In addition to Pranter and McFarland, James Wilson, the technical director for the play, was selected as a recipient of meritorious achievement based on his set design.
Approximately 18,000 students nationally enter the Kennedy Center American College Theater Festival each year, according to the competition website.
"This is a chance for our actors to go experience the celebration of college theater in a festival setting," Noel said.
"It's going to be a great experience for them."
Noel said he hoped the nomination might attract more students to the theater program.
"Just being recognized for your work is encouraging," he said.
Noel said this is an opportunity for hard-working actors to receive a sense of validation.
The play, "American Buffalo," was expected to generate some objections from the audience because of its offensive language.
After the performance, Noel said, audience members said the play did not seem as bad as they thought it would be.
"The controversy was in the fear of experiencing the play," Noel said.
"People were afraid it was going to be something that was so offensive."
Noel said most people [in the audience] saw a group of guys that were trying to get by…even though those guys were speaking vulgarities.
To contact Alexandra Hawthorne, email onlineeditor@occc.edu.