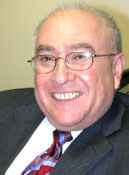 Felix Aquino
OCCC Vice President for Academic Affairs
"It is my great pleasure to congratulate those who have qualified for the Vice President's Honor Roll. You have shown a continual striving for and achieving of excellence. My best wishes for you in your future endeavors. I know you will do us proud."
Students are eligible to be on the Vice President's Honor Roll by achieving a GPA of 3.5 while carrying at least 12 hours. Part-time students are eligible if they have maintained a 3.5 GPA for two consecutive semesters.
James Abbott, Mariah Abram, Ann-Marie Adams, Bolaji Adegoke, Ademayowa Adeoba, Narges Afzoud, McKlein Aguirre, Mariam Ahmad, Philomine Aka Atabong, Mohamed Al Moutaa, Yvonne Alex.
Christine Alkaakaty, Samie Allen, Krysten Allred, Ana Alvarez, Nicole Amoruso, James Anderson, Matthew Anderson, Daniel Andrews, Mohamed Anejarn, Marc Anthony, Aydhee Anzo, Kelly Arpoika, Verna Ashalintubbi, Ciria Avalos, Hulya Ayan, Halime Aykan.
Gabriela Baeza, Lindsey Baldwin, Jacqueline Barbee, Ashley Barber, Elizabeth Bare, Caleb Barrette, Stephanie Barry, Jonathan Barstow, Shannon Barton, Kimberly Bastian, Sara Bastings, Robert Beals, Brittany Beavers, Darla Beck, Megan Beddo, Brittany Behymer, Nicholas Bekker.
Meagan Bell, Enrique Benitez, Matthew Bergey, Daniela Berroteran, Kyoko Berry, Adeline Bickerstaff, Tasha Bird, Elizabeth Blackledge, Vanessa Blackwell, Darrian Blanchard, Regina Blanco, Kristina Bowen, Cody Bowline, Suzzanne Brandt.
Kevin Brannan, Taylor Brannon-Cradduck, Mary Brennfoerder, Brentney Brewer, Dacia Brewster, Redman Brown, Harvey Brown, Travis Brown, Johnny Bruner, Ethan Bullock, Kayli Burbridge, Eric Burfict, Sindee Burga, Randy Burghart, Jacob Burnett, Kerry Burns, Kaitlyn Burton, Remington Butler, Sarah Byars, Philip Byrd.
Barbara Cabral, Davina Caddell, Emily Cain, Meagan Caldwell, Vincent Camp, Dennis Camper, Cody Carpenter, Noemi Carreon, Juan Carrillo, Miranda Carrington, Graham Carroll, Jennifer Carter.
Jake Casey, Faryal Chamani, Layla Chamseddine, Robert Chandler, Monica Chavez, Jung Ah Choi, Juwhan Chung, Chelsea Clifton, Jeremy Cloud, Julia Cobble Nicholas Cochran, Lars Cohenour, Sara Coil, Cheryl Coldwell, Jackie Cole, Ariel Coleman, Joseph Conant.
Brittany Condren, Sarah Cooper, Justin Cox, Brandan Crabill, Cindy Crabtree, Cole Craig, Courtney Crites, Laura Cullen, Allison Cummings, Brandy Curnutt-Joiner, Randall Cuthbertson, Jordan Dailey, Steve Damazo, Phong Dang, Thu Dao, Alisha Davidson, Melissa Davidson, Malonna Davis, Jennifer Day, Christa Day, Sarah DeVore, Stephen Deckard, Jonathan Decker, Marisa Deloera, Akshat Desai, Madan Dhakal.
Nicole Diaz, Kimberly Diaz, Krystal Dinh, Kimberlee Dinsmore, Joseph Dixon, Serena Do, Leah Dodson, Sarah Dougherty, Joseph Dougherty, Heather Driscoll, Christopher Dunn, Alisha Dunning, Tony Duong, Nhi Duong.
Alexander Echeverria, Sara Edminsten, Kevin Edwards, Shams El Din El-Fouly, Victoria Engle, Justin Eskew, Eric Espinoza, Robert Estes, Victoria Evans, Christopher Evans, Melissa Evans.
Xiaoli Fan, Nicholas Fennema, Thomas Flesher, Tabatha Floyd, Michaela Floyd, Richard Fogarty, Kaci Ford, Christina Forney, Rebecca Foster, Julie Foster, Ian Foster, Megan Foster, Danielle Fox, Heather Franks, Mollie Frantz, Mike Freeman, Austin Freeman, Lauren Freie, Robert Friend, Lindsay Fritts.
Amanda Gain, Darneisha Gamble, Joaquin Garcia, Robert Gardner, Nathan Gardner, David Gattis, Kayla Gauthier, Cj Gay, Julie Giddens, Barbara Giles, Govinda Giri, Tiffany Goade, Shea Goble, Leah Goff, Shannon Gogel, Filoteo Gomez-Martinez, Norman Gonterman.
Heather Gonzales, Jennifer Graham, Summer Graham, Ronald Grant, Billy Grayson, Britton Green, Nathaniel Green, Kyle Gregory, Zac Griggs, Amber Groff, Jannette Guerrero, Lisa Gunn, Punam Gurung, Adam Gutierrez, Renzo Gutierrez-Benites, Stanley Gwaabe.
Vy Ha, Ross Haley, Dominique Hall, Dacia Hall, Rachel Hamidi, Tyler Hamilton, Thomas Hanna, Justin Harden, Sherita Harding, Natasha Harlan, Nathan Harp, Victoria Harrell, Jeremy Harris, Anthony Harris, Jayson Hartless, Tabitha Hasley, Hossain Heidari, Susan Heinken, Benjamin Helms, Amanda Hemric-Hill, Rochelle Henagar, Rachelle Hernandez, Chelsey Herrin, Nathan Hester, Eric Heuangsayaseng, Amelia Hicks, Brad Hightower, Cali Hildebrandt, Brandon Hillhouse.
James Hines, Brandon Hinthorn, James Hodges, Emily Holland, Natausha Holman, Stephanie Holt, Joshua Hooten, Christopher Horton, Ryan Hoy, Chase Hudson, Ursula Hudson, Chad Hughes, Melissa Hulsey, Amanda Hursh, Jessica Hutchinson, Brandon Inda, Shelly Irvin, Brandon Ivey, Mabel Iyaye, Shannon Jackson, Caleb Jackson, Venus Jacobs, Keith Jacobs, Christopher James, Natalie Jamison, Erin Jarvis, Bobby Jefferson, Conor Jenkins, Chazten Jenkins.
Michelle Jenkins, Elisee Jionang Dapeu, Arthur Jobe, Haley Johnson, Tambrea Johnson, Marcus Johnson, Nina Jones, Kristofer Jones, Morgan Jones, Jessica Jones, Keith Jones, Kaci Jonte, Jamie Jordan, Patrick Jordan, Julie Julian.
Christopher Kaufman, John Keith, Natalie Keller, Michelle Kelley, Shannon Kelley, Jason Kelly, Logan Kennedy, Alexandra King, Jeffery Kinney, Keith Kirby.
Andrew Kirby, Patana Kittichaisombat, Michael Knapp, Rebecca Koehler, Austin Kolb, Yolande Kombou, Megann Kroenert, Shelby Kutej, Christopher La Ponsie, Samden Lama, Jamie Lane, Blaine Lawrence, Thomas Lawson, William Layden, Michaela Layne, Donny Le, Hoang Le, Hanh Le, Nancy Le, Matthew Ledford, Kara Lee, Yungeun Lee.
Myles Lindsey, Drisana Litke, Brittany Litke, Zachary Lloyd, Sunny Loneman, Sarah Long, Daniel Lopez, Yovana Lopez, Kari Lord, Kathryn Lowe, Alisa Ludolph, Mario Luna, Petra Lusche, Casie Lynn.
Matthew Maag, Bailey Mack, Lucy Maina, Veronica Maldonado, Kelsey Males, Robert Malmstrom, Isaac Marrone, Hope Martin, Chris Martin, Jennifer Martin, Richard Martin, Donna Martin, Amber Martinez, Sayra Martinez, Sherry Mason, Sandra Mayen, Sampson McSidney.
Robin McArthur, Jordan McCaskill, Landa McClure, Johnathon McCormick, Cayla McCullough, Thomas McDonald, Sarah McEuin, Cheryl McGuire, Tyler McKee, Caitlin McLaughlin, Shelby McLaughlin, Daniel McLean Sullivan.
Keith Medina, Shannon Meeks, Katrine Meyer, Daniel Michael, Misty Mikhailin, Dustin Miller, Loretta Miller, Amanda Mills, Aaron Minnis, Stacy Mize, Cory Mize, Elisha Moaning, Daniel Montalvo, Cori Moore, Stefany Moore, Beau Moore.
Shanna Morey, Tina Morris, Rachel Mosena, Jennifer Mosteller, Nadia Moudkiri, Jaree Mueller, Margot Mueller-Reid, Royal Mulinix, Maximo Munoz, Chauncey Murch, Brea Murnan, Mary Murnan, Dennis Murphy, Asaba Murray, Jessica Murray.
Syed Naqvi, Anulika Ndive, Leila Ndomche Kondo, Emily Nelson, Mary Newcome-Hatch, Alexander Newell, Summer Newman, Pierre Ngalani, Jacqueline Ngo Biheng, Phikhanh Nguyen, Martin Nguyen, James Nguyen, Thai Nguyen, Dat Nguyen, Jay Nguyen, Liem Nguyen, Trang Nguyen, Huong Nguyen, Linda Nguyen, Quangsangho Nguyen.
Meagen Nichols, Chase Nichols, Jane Nickolls, Ericka Noah, Chad Noah, Bailey Nolan, Adam Nowlin, Mirimma Nwosu, Katlyn O'Hearn, Tessa Ogburn, Beatrice Ogunremi, Aiden Ojester, Oladayo Olaoye, Ryland Oliver, Aja Orcutt, Ryne Overfield.
Yara Pacheco, Candace Palmer, Anju Pandey, Anthony Parker, Tanay Patel, Ashley Paterson, Kandy Patterson, John Peck, Susan Pedulla, David Pemberton, Hunter Pemberton, Rany Penner, Francisco Perez, Nicholas Perkins, Christina Perkins.
Desirae Peyton, Michael Pham, Eric Pham, Tuan Pham, Thanh Pham, Dat Phan, Jordan Phillips, Marquita Phillips, Brandie Phillips, Deivid Pineda, Bradley Podany, Brian Pribble, Sandi Price, Heather Prince, Carrie Pullin, Jessica Pursell, Jordan Pyle, Kari Pyszko.
Yen Quach, Rebecca Qualls, Dustin Rachal, Orlando Ramirez, Michael Ratcliff, Nathan Redman, Brianna Reed, Brandy Reeves, Monica Regouby, Ryan Remillard, Tanya Rennie, Desiree Reyes, Rosa Reyes, Shelby Rhodes, Christopher Rice, Crystal Richardson, Mitchell Richardson, Jessica Ricks.
Windi Riggs, Amanda Riley, Anisha Rimal, Callie Rinehart, Stacey Rios, Karla Rivera, Mariah Rivera, Rachel Robinson, Crystal Rodriguez, Mia Rogers, Eduardo Rojas, Garrett Romines, David Ross, Crystal Rowe, Morgan Ruckel, Dustin Rush, Natasha Russell, Jessica Russell, Kymdria Russo, Awet Russom, Steven Rutherford, Mathew Ryan.
Grace Salewon, Karla Sanchez, Daniel Sanchez, Mario Sanchez, Sunshine Sass, Racheal Schatz, Evan Schinnerer, Lauren Schmidt, Shay Schultz, Bradley Scott, Celia Scott, Jonique Scott, Alexandrea Shannon, Hannah Shell, Jessica Shinabery, Yosuke Shingu, Nora Shires, Kia Shorter, Liza Shrestha, Sue Shultz, Caleb Shultz, Krystal Sides, Jeremy Sieg, Caitlyn Siharath, Jemimah Sika, Sarah Simmons, Angela Sinesh, Moses Skariah, Scott Slocum.
Mark Smith, Jessica Smith, Sheena Smith, Marilyn Smith, Kristen Smith, Krista Smith, Megan Smith, Katie Smith, Jonathan Smith, In Sun Song, Michael Southerland, Ethan Spruill, Tony Staggs, Anthony Stancampiano, Shawna Standiford.
Brittani Stanfield, Taren Stanton, Joseph Stipek, Larissa Stone, Natalie Storgards, Alexander Stover, Charlsey Studdard, Michael Stutzman, Matthew Sullivan, Denise Suttee, Laura Swigart, Shaida Tabrizi, Nima Tajbakhsh, Latosha Tart, John Tastad, Emmanuel Tatchum, Jeff Tate, Johnny Taylor, Heath Taylor, Kimberly Taylor, Chelci Taylor, Elsa Tchouambou, Travis Terrel.
Andrea Thatcher, Chalermphol Thiensingchai, Shelbi Thomas, Shaenna Thomas, Kimberly Thomason, Alissa Thompson, Jennifer Thompson, Jacob Tinsley, Shanna Torres, Jacob Touchstone, Tyler Trail, Kathryn Trammell, Julie Trump, Delisha Tsatoke, Rahwa Tsegay.
Uduak Udo, Laura Vallera, David Van Dorn, Ryan Van Noy, Dana Vara, Dustin Vaughan, Amanda Vega, Victoria Ventura, Crystal Vidal, Barbara Violette, Kathy Vo, Ngoc Han Vo, Khoa Vu, Vu Vuong.
Raven Wahkinney, Hannah Wahpepah-Harris, Stephen Wake, Brooke Walling, I-Shih Wang, Shelley Ward, Kyle Ward, Maureen Warford, Christopher Warman, Brenda Warren, Paige Warren, Kenny Watson, Jade Webb, Mica Webb, Chandelle Weeks, Chavon Wennersten, Braden Whatley, Kiersten White, Eric White, John White, Wyatt Wick, Shannon Wilkinson, Eric Williams, Deborah Williams, Sarah Williams, Marisa Williams, Shane Williams, Joshua Williams, Clifton Williams, Trent Williams.
Ben Williams-Kupec, Allison Willing, Annette Willingham, Robert Willson, Leslie Wilmot, Brent Wilson, Donna Wilson, Renee Wilson, Annastayzia Wilson, Kelcie Wolf, Katelyn Womack, Lesley Wood, Susan Wright, Kristin Wright, Vanessa Wright, Aykamar Wushur.
Raman Yadav, Yu Jeong Yang, Kristen Yeary, Jessie Yepdjuo, Sara Youkna, Mindy Young, Meghan Young, Matthew Young, Tara Zegarra, Li Juan Zhang, Lynetta Zoch, Quinten Zoch, Sangsang Zou.