Students prepare for pinning ceremony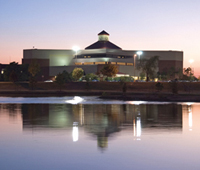 Dec. 17 will be a momentous day for 62 OCCC nursing students when the students will receive their nursing pin in a pinning ceremony held in the College Union. The students have worked long and hard to get this point said Assistant Nursing Program Director Terri Walker.
"The pinning ceremony represents them being welcomed as a peer into our profession," Walker said.
The students will be Registered Nurses and have completed the two-year Associate Degree in Nursing program, Walker said.
"We've had between 54 and 80 graduating nursing students in recent years, so our current class of 62 is a good number," she said.
Many of the students go on to get their bachelor's in nursing.
"I myself graduated from OCCC and went on to get my bachelor's in nursing as did several members of our faculty here," Walker said.
The students have come into a very intense program, she said. "Aside from six hours of class time a week the students have had to do eight to 12 clinical hours a week. That is a lot of time and hard work.
"Throughout this program students have learned to use critical thinking and clinical judgment skills to care for patients in a clinical setting," Walker said.
Nursing student Shonda Ayers is one who will be receiving her pin that night. She said she thinks the pinning ceremony is a very important process.
"The pinning ceremony means a lot to me because it is a long tradition for nurses everywhere and it's a more personal ceremony," Ayers said.
Nursing student Brian Jones agrees.
"The pinning ceremony is the culmination of two years of hard work," said nursing student Brian Jones.
For more information contact the Health Professionals Division at 405-682-7507.