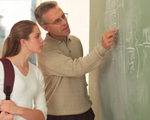 The Accounting Lab is a place where students can get tutoring for Accounting I and Accounting II, said Julie Young, lab director.
The lab is located on the second floor of the Main Building in room 2R1.
The five staff members who work in the lab are more than happy to help with any problems students may have, Young said.
They prepare practice tests, handouts for chapters, and practice sheets to help students succeed.
The lab posts homework answers on the outside of the lab window where students can check their homework.
"We want students to do their best, and we are there to help," Young said. Students must bring an OCCC student ID to use the accounting lab.
The lab is free for students. Travis Sutterfield, business major, said he plans to use the lab.
"I think the Accounting Lab is necessary to be successful in accounting courses," he said.
Students say the best time to visit the accounting lab is right after they open in the morning.
Lab assistants advise students not to procrastinate about studying for tests.
Right before a test is when the lab is the busiest.
Lab hours are 10 a.m. to 8:30 p.m., Monday and Wednesday; 10 a.m. to 5:45 p.m. Tuesday and Thursday; and 10 a.m. to 3:30 p.m. on Fridays.
For more information, contact Young at 405-682-1611, ext. 7286.