Students offered free passes to events
Performing Arts Series concerts are free to students, said Series Coordinator Linda Bosteels. She said the eight-performance season begins Oct. 1 in the OCCC Visual and Performing Arts Center Theater.
Each student can receive two free tickets per show, she said.
To get tickets, students need a valid student ID and should either call the box office at 405-682-7579, or stop by the Cultural Programs office located in the OCCC Visual and Performing Arts Center.
The performances are advertised by email, on posters, on the school's video monitors, and on the electronic marquee on the street corner at May Avenue and SW 74th Street.
Although many forms of advertising are used, many students, including Michael Mayfield, are unaware of the offering.
"I've never been to a Performing Arts Series concert and I didn't know the tickets are free," said the diversified studies major.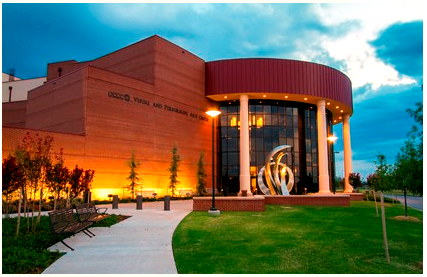 Mayfield said handing out flyers to students might be an effective way to advertise the upcoming shows.
He said he also plans to read his college email more frequently now that he knows student tickets are free.
On Oct. 1 the Texas Tenors kick off the season.
The Texas Tenors debuted on "America's Got Talent" and are well known in Branson, Missouri, for singing a wide variety of songs including classics, country, and Broadway favorites, Bosteels said.
"They are very entertaining, very excellent musicians," she said.
The series continues through May and includes a wide variety for audiences of different cultures, different interests and different tastes, Bosteels said.
She said she hopes students expand their musical horizons by attending the concerts.
Bosteels said she is especially eager for the Christmas show this year. In December, Melinda Doolittle will entertain as part of the Performing Arts Series.
Doolittle is famous for her powerhouse voice as a season six "American Idol" finalist.
Her talent has been heard from the White House to Carnegie Hall.
Doolittle received her music degree from Belmont University in Nashville, Tennessee, where she became well known.
Finding numerous talented artists can be difficult, Bosteels said.
She said Lemuel Bardeguez, Cultural Programs director, is in charge of finding and booking the series.
Students can take free master classes taught by some of these performers throughout the year.
Students can call the cultural programs office at 405-682-7576 closer the start of the series to find out which performers will be teaching.
The following performers are scheduled for the upcoming series:
Doc Severinsen with the Oklahoma City Jazz Orchestra is known for big band music. That concert is slated for Oct. 26.
The Los Angeles Guitar Quartet is a Grammy Award-winning ensemble that will take the stage Nov. 12.
Rhonda Vincent and The Rage is an honored Bluegrass group that will be on campus Jan. 22.
Los Lobos/Ballet Folklorico Mexicano combine dance and music to honor their Mexican-American heritage. They will perform Feb. 16.
Jim Brickman is an adult contemporary artist who has earned four gold albums. He is scheduled for March 8.
Kid Koala is a deejay and music producer who will be presenting an adaptation of his graphic novel "Nufonia Must Fall" on April 8.
For more information about the performances, call the box office at 405-682-7579, or visit www.occc.edu/pas.