Students listen to candidates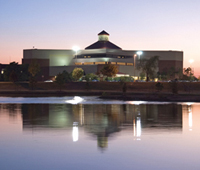 Students from OCCC's Emergency Medical Sciences program attended a public safety forum in early October at the Oklahoma State Capitol. They heard candidates for the Fifth Congressional seat, as well as candidates for attorney general and lieutenant governor.
The congressional seat is being vacated by Mary Fallin, who is running for governor.
Sixty-two students and about 10 faculty members attended the forum. Most students attending the forum are in the program on the OCCC campus but a few were from the Tulsa area and are a part of the growing online program, said Leaugeay Barnes, Emergency Medical Sciences director.
The college's EMS lab assistant Rodney Johnson said the forum was arranged for the students to hear a wide variety of views across the political spectrum.
The first to speak was Democrat Billy Coyle. The three main issues he addressed were the economy and jobs, local energy resources, and veteran benefits.
Next on the podium was Clark Duffy the independent candidate for Congressional District 5. Duffy said freedom is his passion.
"I believe in the absolute right to live your life anyway you want," he said. In a nod to his audience, he also mentioned the need for death benefits for EMS workers.
Republican James Lankford talked about the debt America has and the long-term process it is going to take to get rid of it.
Last to speak was the Democratic candidate for attorney general, Jim Priest. Priest said he believes his experience in the courtroom as a lawyer would help him in the position of attorney general.
Two main points he said he would address if elected are fighting drug addiction and promoting cleaner water for Oklahoma.
Student Kelley Weedn, who was active in asking questions, said she was disappointed in some of the candidates.
"I think if you're going to be a politician, you need to be prepared for controversy and know what you're talking about," she said. "I think only two could do that … Overall it was a good learning experience."
As the director of OCCC's nationally-accredited EMS program, Barnes said she wanted to introduce students to the political process.
"We are trying to build the next leaders to take charge in our profession," she said.
She and Johnson believe this forum helped the students start building that leadership.
The EMS department takes a trip to the state Capitol for a presentation or speech every semester, Leaugeay said.
The students said the programs get better every time and most are excited to see what's in store for the spring.
For more information, contact Barnes at 405-682-1611, ext. 7343, or e-mail lbarnes@occc.edu.