Students left wondering why free class now costs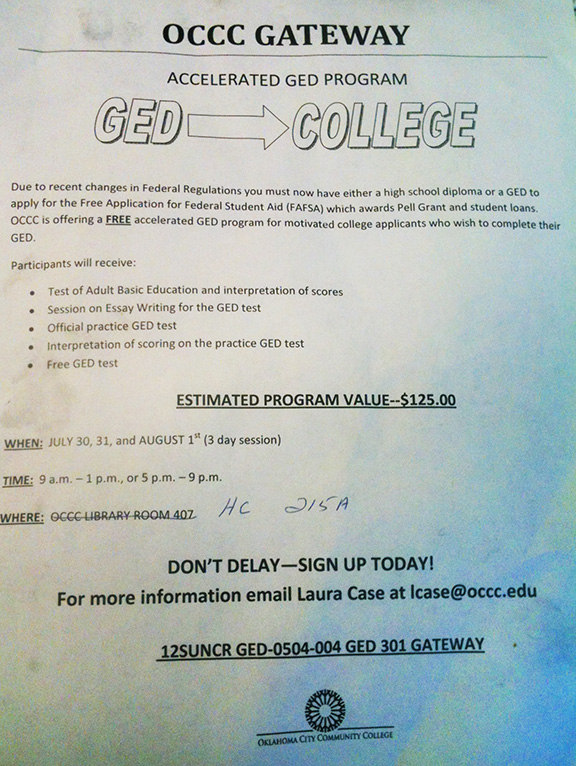 A copy of the circulated flyer, which shows the OCCC Gateway program includes a free GED test. Click
here
to view a larger version of the flyer.
UPDATE: For an update to this story, click here.
Prospective student Christina Yeager said she prepared well in advance — making arrangements at her job and for her children to be cared for — so she could attend OCCC Gateway, a three-day program designed to help students earn their GED by offering learning sessions, practice tests and the GED test itself — all no charge.
But when Yeager showed up for her first class Monday morning, July 30, Professor Pamela McGee put a kink in those plans when she told the class there was a change — students would not be able to take the GED test for free as advertised.
Instead, they would only be given a $20 discount off the $60 test.
"She said [OCCC] told her there would be over 100 students in the class, so they decided they would make a little money off it," Yeager said. "There were only about 15 of us in the classroom."
As of her Tuesday class the next morning, Yeager said, that number had already dwindled down to nine.
"The people who signed up for this class wouldn't have done it if they didn't need the financial help," she said. "A $40 test is still a lot more than some people can afford."
Although Yeager said she will continue with the class as planned, she said the cost will "definitely" set her back.
"I might not even be able to start school this semester," she said.
Due to recent financial aid changes requiring students to have either a high school diploma or GED to apply for Pell Grants and student loans, Yeager said, she was directed to the Gateway program by OCCC's Advising department.
"They said it would all be free," she said. "There were flyers all over the place advertising it and now you can't find those flyers anymore."
Yeager said although OCCC had her contact information, including her address and telephone number, the college failed to notify her — as well as her classmates — of the change.
"If I would have known, I would have had something set aside," she said. "I don't know what to do now. I can't just pull a rabbit out of a hat."
Tanner Hodgins said he experienced the same situation during the Gateway program's first nighttime session, also held July 30.
"We got about 10 minutes into the class and [McGee] said 'By the way, we no longer offer the program for free. We're giving a discounted price instead.'"
Hodgins said like Yeager and her classmates, his class was informed that because OCCC expected more than 100 students to show up for the sessions, the college decided to "make some money out of it."
Even though there were only about a dozen students in his class, he said, McGee said the new stipulation couldn't be changed.
"People were looking around the room, looking at each other in shock," Hodgins said. "Three people just got up and left.
"[McGee] called a break and people just went to their cars, drove off and never came back.
He said although he has "no choice" but to go through with the class, he believes OCCC should offer the test for free, as advertised.
"It makes the whole school look bad," Hodgins said. "They should go back and do what they said they would on the ad. It should go back to being free and helping people instead of getting greedy and trying to make some money."
Hodgins said no one in his class was contacted about the changes.
"You have to be in OCCC's system to sign up for the class, so they had our contact information," he said. "They should have at least said something. All of my plans were revolving around this."
According to a copy of the original flyer, participants of the OCCC Gateway program would be enrolled in a three-day "free accelerated GED program for motivated college applicants who wish to complete their GED." The flyer also shows participants would receive:
A test of Adult Basic Education and interpretations of scores,
A session on essay writing for the GED test,
An official practice GED test,
An interpretation of scoring on the practice GED test, and
A free GED test
Attempts to contact multiple college officials tied to the GED program have been unsuccessful.
Keep checking back for updates to this story.
To contact Whitney Knight, email onlineeditor@occc.edu.