Students invited to learn in sun at Blue Sky Lab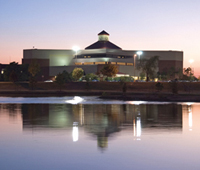 Having fun and learning at the same time are the goals of the Blue Sky Lab on Wednesday, April 20, in the campus courtyard. It is being hosted by the World Languages and Cultures Center, said Chiaki Troutman, lab coordinator.
Beginning at 1:30 and continuing until 2:30 p.m., picnic style tutoring and language activities will be offered.
Troutman said one of the highlights will be dance lessons for the bachata, a Latino dance that is something like the salsa.
Keven Mendoza, a Mexican American student at OCCC, will teach the bachata. He said the dance will be simple enough for everyone learning it for the first time.
Mendoza assists in the lab and will be coordinating the dance lessons at 2 p.m.
All students are invited to participate in the events of the day, including singing, dancing, playing games and learning songs from other countries. Students from the Spanish classes in particular will be attending.
Troutman said those interested can come along with snacks or samples of their native food to share with others.
All international students are welcome to share their language and songs, Troutman said.
It is open for everyone who wants to have fun and get information about other cultures. No registration is required and walk-ins are welcome.
"Students often read outside in nice weather," Troutman said. "We want to offer language and cultural activities under the blue sky.
"That is what we want to offer in a fun and entertaining way.
"Pray for a good weather, so it will not be postponed."
The Blue Sky Lab will also be a way of making students aware of the different ways the center is useful to them.
The World Languages and Cultures Center is located on the second floor of the Main Building.
The center has satellite television, foreign movies, events and cultural program that are targeted at bridging the gap between students from different background.
For information regarding the lab, contact Troutman at ctroutman@occc.edu or at 405-682-1611, ext. 7104.