Students host adaptive equipment expo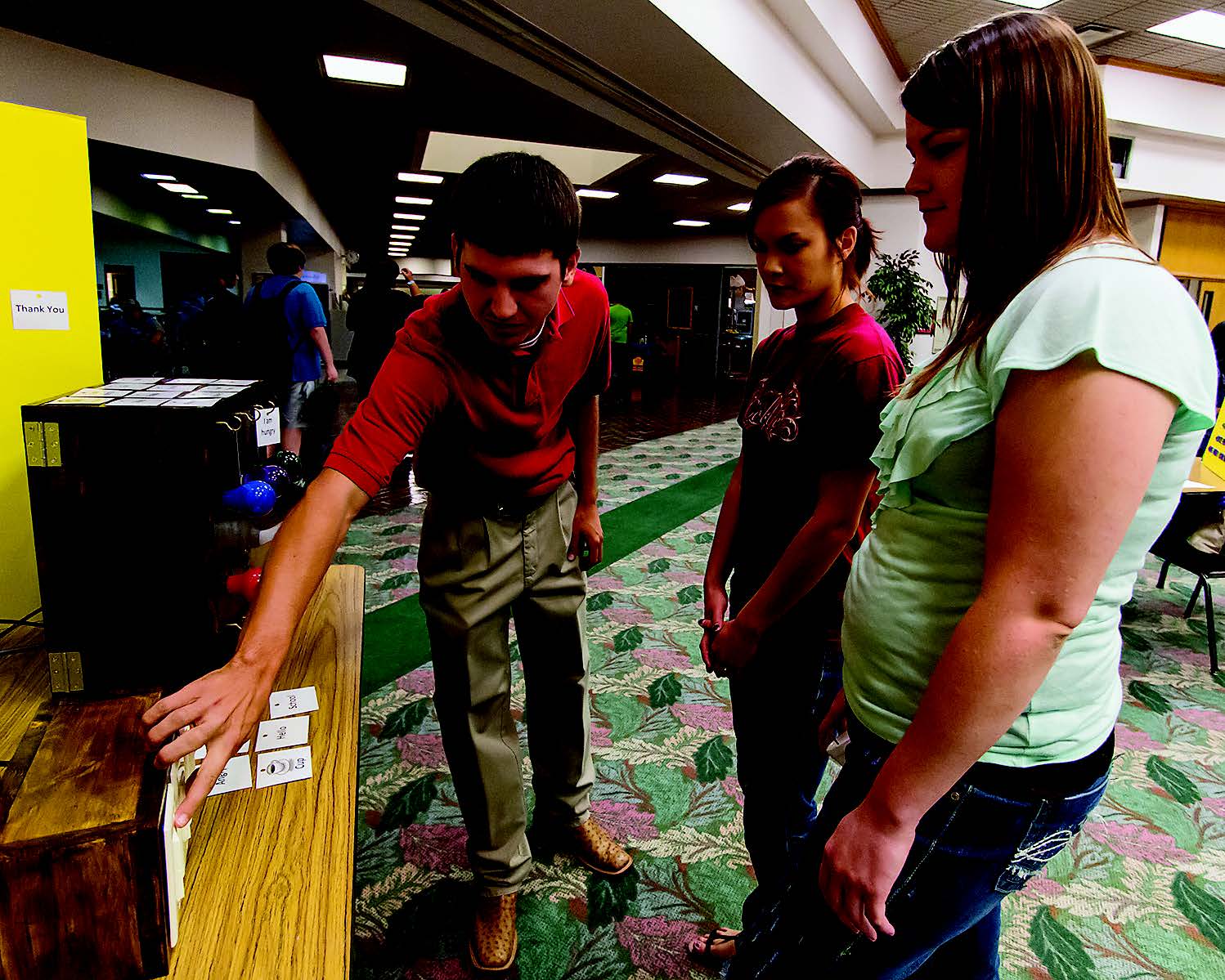 Occupational therapy assistant students put on an adaptive equipment exposition in the College Union Sept. 25 to show devices they had made or created to help their clients live more independent lives.
It was a way for second-year students to show off the projects they have been working on for the past year.
OTA student Wendy Hinricksen said she came up with picture memory aids for people who have dementia, Down Syndrome, or other memory problems. Hinricksen said the picture memory aids showed common household items and how they should be used.
For instance a picture of a clock set for 6 a.m. would remind the person to set the alarm for that time every night. Such memory prompts can allow the clients to be more independent.
"The expo was a great opportunity to show what is important to us," Hinricksen said. "I knew immediately what I wanted to do."
OTA student Crystal Rowe said she took an idea from an adaptive equipment catalog and made it better. Rowe said her "foot scooper" was quick and easy to make at home and would allow a person with weakness or paralysis on one side to put on socks and shoes unaided, thus allowing more independence.
The foot scooper was made out of a very soft felt material and a little bit of velcro to allow a person to wrap it around their foot and adjust it to the length they would like. With the device, Rowe said someone could use one hand to pick up their foot, hold their foot in place on the knee and put on socks and shoes.
"It's really neat to be able to show people that this is occupational therapy and that this is what we do," said Tabby Hasley, OTA student.
Adaptive equipment helps people who have had strokes, dementia or Alzheimer's as well as children with disabilities or who have had injuries. It helps with range of motion, balance, coordination, gross motor skills and fine motor skills, Hasley said.
"Occupational therapy is very creative and it's fun," said OTA student Megan Ott.
OTA students were able to show off their creative and money-saving ideas. Many students came up with their own adaptive equipment idea while others found equipment in an adaptive equipment catalog and found ways to make it at home for less money.
"It was an opportunity to show what we have learned," said OTA student Kari Stevenson.
"We did it as a project to help ourselves and first-year students. It gives us hope that graduation is near."
After occupational therapy assistant students complete their program and pass their certification exams, they work in rehabilitation programs at nursing homes, hospitals, or home health companies.
For more information on the OCCC occupational therapy assistant program, visit www.occc.edu/academics/programs/occupational-therapy-assistant.