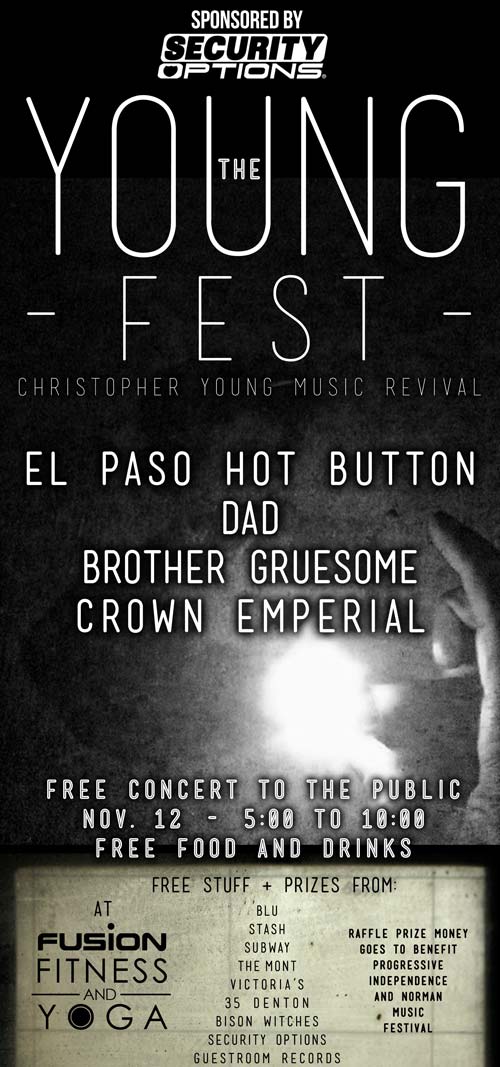 OCCC students Dylan Johnson, Ross McClish and Graham Brewer are hosting the third annual Youngfest 5 to 10 p.m. Nov. 12, in Norman, Okla., at Fusion Fitness and Yoga at 323 E. Main Street in Norman.
Youngfest was created to honor Christopher Allen Young, an aspiring musician who was paralyzed from the waist down after an accident on Lake Thunderbird a few years ago.
Young died in 2009.
The event also honors Progressive Independence, a Norman-based organization that helped enhance Young's quality of life after the accident.
"Chris Young was paralyzed several years before the festival, and Progressive Independence helped him out," Johnson said. "This is our way of paying tribute to Chris and Progressive Independence."
The event is free to the public, and features four bands: El Paso Hot Button, Crown Imperial, Brother Gruesome and DAD. Free food and drinks will be provided to people in attendance, and a raffle will be held throughout the night
Signups for the raffle will be from 5 to 6 p.m. and the drawings will last from 7 to 10 p.m.
Raffle prizes include: Two tickets to 35 Denton (a four-day musical festival in Denton, Texas), gift certificates to Bison Witches, Blu, Guestroom Records, Stash, The Garage, the Mont, and Victoria's Pasta shop.
T-shirts from Dojo and jewelry from Oklahoma Vintage will also be available as prizes.
Attendees are encouraged to donate money, and all proceeds from donations and raffle tickets will go to Progressive Independence.
For more information about Youngfest, visit http://theyoungfest.com.