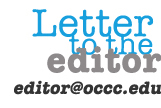 To the editor:
OCCC and the math department has lost a long time teacher, friend, and student advocate.
Dr. Judy Gailey passed away from a heart attack while visiting a friend in Maryland.
Over the past 17 years she helped thousands of students as a Math Lab assistant and adjunct professor of mathematics. Her doctoral studies were in learning styles. She had excellence in her work with all students, but she had a marvelous, compassionate ability in working with students who struggled with math and with life.
Her funeral services will be this Saturday, Nov. 19, at 2 p.m. at Havenbrook Funeral Home in Norman.
Her son James, also known as Ian, and some of her family will be at the funeral home Friday evening, Nov. 18, from 6 to 8 p.m. for people who can't come Saturday, or would just like to come and visit.
Judy made a difference in lots of our lives. Her son James has a notebook of her tributes and thank you letters from students and colleagues.
If you have information to share with her son and family, you may email them to Tamara Carter, head of the Math Department, at tcarter@occc.edu, or bring them to Tamara in the Math Division Office. She will see that James gets them.
Judy will live on in the hearts and abilities of many of us. The strength, encouragement, and love that she gave to so many will truly make a lasting difference.
—Sue Oates
Adjunct Professor of Developmental Math