Students Face Tuition Increase for Fall Semester
Students at Oklahoma City Community College face an increased tuition this year. OCCC's funding comes from one third tuition and fees, one third from donors and other sources, and the last third comes from the state budget.
Oklahoma's education budget for has been historically, and is still, among the lowest in the country. In fact, Oklahoma has been among those that lead in the nation for deepest education cuts ever since 2008.
This has forced publicly funded education facilities to adjust in ways that can affect both faculty and students.
College President Jerry Steward said, "I never enjoy requesting a tuition increase, ever. The board of regents of Oklahoma City Community College never enjoys approving a request to the state regents, they don't enjoy it either.''
Between 2016 and 2017 OCCC had to close departments, lay off professors and faculty, and raise tuition to be able to keep the college running in spite of state budget cuts.
"We had draconian, dramatic cuts in funding," Steward said. "And we are still reeling from those cuts, and so, what we did was really a modest increase – it was a low side of other state schools. And it was necessary for us to continue the kind of service that we are committed to give our students."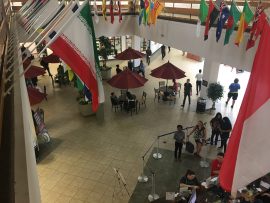 Other schools and universities have also been approved for a tuition raise; the average increase is about four percent.
In an interview with NewsOK in 2016, Steward said public education must find a way to continue its mission. "We have to preserve the core mission of Oklahoma City Community College, and the core mission is teaching and learning," he said.
He said the reason for a tuition increase in 2018-2019 is to recover from several cuts in the past.
With OCCC administrators forced to address the rising prices of goods and services, tuition increases are sometimes necessary.
Charles Myrick, an economy professor at OCCC said college faculty have gone several years without an increase in pay.
"We went, you know, several years without a raise on campus, and we recently got one- what a lot of people don't realize with regards to raises: there's this thing called inflation, so every year, during the 80s, 70s, there were much higher inflation than it is now, but, for the last several decades, like two decades or so: the inflation rate is around two to three percent," he said.
Steward said the teacher walk out in April resulted in a raise for public school teachers and the education system, although the increased budget does not make up for the previous cuts that have been made, and doesn't come close to a pay raise when considering other economic factors.
"The legislature finally passed the pay raise for teachers and some other state employees, the K through 12 teachers got a raise, the career teachers got a raise, but our teachers didn't get a raise. So at convocation on August 15th, I announced to the faculty and staff that with the full support of the board of regents that I was granting a three percent raise for everybody. Now, does that make up for seven or eight years of no raises? It doesn't. But it's sure better than nothing," he said.
When colleges and universities raise tuition in the face of higher operating costs, students end up shouldering the burden.
The state's minimum wage, though, has not kept up with either rising tuitions or the cost of living in Oklahoma.
The last increase was almost a decade ago to $7.25 an hour.
Even though Oklahoma is among the cheapest places to live, and OCCC is among the least expensive colleges in the U.S. and the state, students still struggle. Even with the cost increase, Steward said, OCCC would continue its core mission — education.
"Every year, this is my favorite time of year, the students are coming back, the professors are coming back. The administrators — we work all year around but there's more of a vibrancy and excitement at the start of a new semester, a lot of activity," he said. "And I still remember from my teaching days I was just so anxious to begin my classes, so it's still one of the most exciting times of the year for us. When I see the students here it's another reminder to all of us; the only reason we exist is to serve our students.''